Stephen King's 'Silver Bullet'
(1985)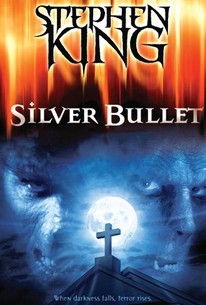 Stephen King's 'Silver Bullet' Photos
Movie Info
In this horror film, based on the novella Cycle of the Werewolf, by Stephen King, a werewolf is terrorizing a small town and it is up to a disabled boy, Marty Coslaw (Corey Haim), and his uncle (Gary Busey) to free the town from its beastly threat.
Critic Reviews for Stephen King's 'Silver Bullet'
Audience Reviews for Stephen King's 'Silver Bullet'
Surprisingly, the werewolf aspects are the weakest part of the film. The character relationships between Marty and his sister (who is always blamed for his shortcomings despite his disability) and with Uncle Red are heartfelt and engrossing. The voiceover by a grown-up Jane sounds like a half-hearted 'Wonder Years' episode but otherwise I adored Busey as the raucous ne'er-do-well uncle and the fact that Marty is not such an angel given his condition. Overall this is a mixed bag but it is noteworthy for its sharp characterizations, the macabre, under-the-radar humor and a truly sinister reason for the werewolf to not commit suicide because it is considered a sin.
Cory Taylor
Super Reviewer
½
Silver Bullet is pretty good werewolf film. Corey Haim gives a good performance and so does Gary Busey. Silver Bullet is based on a short story by Stephen King, and like every King adaptation it's creepy and chilling. The werewolf effects are great and terrifying. The film is definitely a thrill ride, and is a terrific horror film. Despite this film being horrifying and thrilling, the film does have a few flaws. Silver Bullet feels like a teen version of a Werewolf film due to the fact that heartthrob Corey Haim plays a crippled kid. this film could have benefited from a stronger storyline as well. The film has some tense, scary moments, but at times the terror feels a bit forced and it prevents Silver Bullet to reaching it's full potential. Otherwise, a pretty good film, if you like werewolf films, then Silver Bullet will give you a different take on the werewolf myth, but this ain't no American Werewolf In London.
Silver Bullet reaks with cheese, and not the enjoybaly stinky cheese. This is the rancid kind that leaves a sour odour in the room even after it's been disposed of. Based on Stephen King's great novella, Cycle of the Werewolf, Silver Bullet takes place not over the course of a year, but seemingly a few days, where every night seems to be a full moon. The werewolf effects are really bad, even for a 1980s movie. But then again, when has a werewolf movie ever had good effects. The movie also opens and closes like a family drama. Wtf? Is this supposed to be a coming of age story where siblings learn to cope with one another, or a movie about a werwolf terrorizing the small town of Tarker Mills? The concept isn't bad, but instead of playing the film for the straight up horror flick that it is, the movie decides to ham everything up. It doesn't want to work to invoke fear in its audience. But then again, how scary can a puppet werewolf be?
Edward Boxler
Super Reviewer
Stephen King's 'Silver Bullet' Quotes
There are no approved quotes yet for this movie.