Stephen King's 'The Langoliers'
(1995)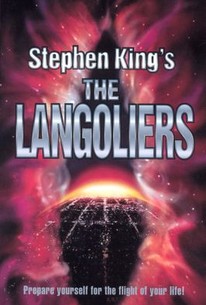 TOMATOMETER
AUDIENCE SCORE
Critic Consensus: While not without its fair share of thrills, The Langoliers suffers from a meandering pace and dubious characterizations.
Stephen King's 'The Langoliers' Photos
Movie Info
Ten passengers on a red-eye flight from L.A. to Boston discover that they are not the only people on the plane, but after making an emergency landing in Bangor, Maine, they discover that they are the only people on the planet. This film was based off the Stephen King short story Four Past Midnight.
Critic Reviews for Stephen King's 'The Langoliers'
Audience Reviews for Stephen King's 'The Langoliers'
½
If there is something of a blessing and a curse with Stephen King, it would have to be the trend of people taking his novels and short stories and turning them into numerous films and mini-series. This is a blessing because it gets his work out their into the masses, making him well known among the common people. It is a curse due to how terrible most of these are. With adapting King's work, unless you really know what you are doing (ex. Brian de Palma and Stanley Kubrick), you will destroy and crash the project. This has happened many time and bound to happen even more. With the case of The Langoliers, this is a mix bag. It is not good, but it is bad in the 'so bad it is good' stance. This is one of the few short stories of King's I have not yet read, but after this film, it makes me want to read it so I can see how King had the story in mind. The basic idea of the film is that a group of people are trapped on an airplane with most of the passengers have disappeared like in Left Behind. The idea is one that has been used before, but with how it is presented on film does leave things questionable with Tom Holland's directing. Honestly, he could have made this film a bit shorter than it already is. He uses the three hours to develop that characters, but the problem is that we never truly care about what happens to any of them. I did not care if they were going to be right, if they were going to die, etc. Holland is known for making some okay horror comedies, but this film he does not do that good of a job with. Quite sad due to how much this film has as potential. The acting, I don't know if this was on purpose, is funny as crap. Everyone is overacting, no one is taking this film seriously, and it is just hilarious to see everyone try to act serious about a situation that is illogical and not that well thought out. But, the actor that just steals the show is Bronson Pinchot. I never seen an actor who overreacts, over does his lines, and raises his voice so high it sounds like his balls were chopped off. He is simply fantastic at being terrible in this film. Kate Maberly does a note worthy job in this film playing a blind girl throughout this film. While it is not a perfect performance (there are times when you know that she is faking), it is mediocre and better than most of the stale performance throughout the film. I might be a bit harsh on this film, seeing as how I have never read the original story, but this film is not really that good as a film or miniseries. In a critical sense. The acting is kind of trash, the direction is confusing at times, and the script should have been rewritten about a few hundred times. But, I still like this film because it is fun, enjoyable, and funny as crap in so many ways it is unrealistic. Everything from the over the top acting to the terrible script works as a comedy. Taken a black comedy, but a comedy none the less. If you go into this film looking for a serious Stephen King Horror story, you will be disappointed. Go into this with a comedic mind. You will get far more out of it. Even more out of Bronson Pinchot's performance.
Zach Brehany
Super Reviewer
Not a bad tv movie. The book is, as usual, better in telling the story of what happens when time passes but this was done well. The cheesy CGI effects used are pretty bad but forgivable given when this was made and the fact that it was done for tv. There are other Stephen King books I would have rather seen given the live action treatment though.
Jason Spencer
Super Reviewer
½
I have to say I enjoyed this film a lot. I hadn't heard of it before but I found the film interesting. This film provides an interesting take on time travel not depicted in other time travel movies. To be perfectly honest I did not see this as a scare film. It was not remotely frightening to me, but that did not prove to be a negative part to it. The story is brilliantly told, and the sfx weren't that bad. It was clearly an unreal format of effects, but this added to the unique structure. Overall I enjoyed the Langoliers, a story of mystery and adventure crammed with plot twists.
Cassandra Maples
Super Reviewer
Stephen King's 'The Langoliers' Quotes
| | |
| --- | --- |
| Dinah Catherine: | Yes, but you need to hurry. (x1000) |
| Dinah Catherine: | Yes, but you need to hurry. |