Stepping Out
(1991)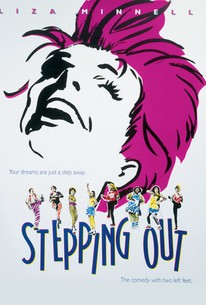 AUDIENCE SCORE
Critic Consensus: No consensus yet.
Movie Info
Stepping Out might be considered a textbook exercise in screenwriting cliche: take Mavis Turner (Liza Minnelli), a woman who "coulda been a contenda" had she pursued her dreams of appearing on Broadway; give her an evening job at a converted church teaching tap; mix in a motley crew of left-footed cardboard-cutouts too rhythmically challenged for her to train; add a charity performance organized by a snooty old ruler-of-the-world-type (Nora Dunn) who thinks they're too klutzy to participate; watch the motley crew turn into a well-oiled dance machine in time to steal the show, prove the snob wrong and overcome their personal problems along the way (not to mention Mavis')...and somehow, in spite of it all, it actually manages to be a rather entertaining film. The entire production is so cheesy and exaggeratedly "Broadway" that it provides more than its share of amusement, intentional or otherwise; the fact that Minnelli turns in an infectiously good-humored performance doesn't hurt, either.
Critic Reviews for Stepping Out
All Critics (4) | Top Critics (2) | Fresh (2) | Rotten (2)
Room is made for a couple of production numbers featuring the star, Liza Minnelli, and they're so good they left me wishing for more Liza and fewer problems in the chorus.

Audience Reviews for Stepping Out
½
Very likable little comic drama gives Liza a nice showcase for her considerable dancing skills, her singing is a matter of opinion but she can belt a number across like few others. The supporting cast is a good one all with little quirks, Shelley Winters stands out with some truly affecting moments.
½
An enjoyable 'let's do the show right here' film based on a play. Gilbert is mostly remembered for his Bond films and Alfie but in the 80's and 90's he did a few adapatations of plays to films, including 'Educating Rita' and 'Noises Off'. This has a great ensemble and you end up caring for them and hoping they do well. It also ends with some brilliant dance routines. However it is Minnelli who shines here. She is adorable as the teacher and you can't help but warm to her. If you like dance and comedy with real heart you can't go far wrong with this.
David Sayers
Super Reviewer
Stepping Out Quotes
There are no approved quotes yet for this movie.