Steve Jobs: The Lost Interview
(2012)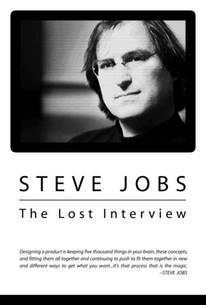 Steve Jobs: The Lost Interview Photos
Movie Info
In 1995, during the making of his TV series Triumph of the Nerds about the birth of the PC, Bob Cringely did a memorable hour-long interview with Steve Jobs. It was 10 years since Jobs had left Apple following a bruising struggle with John Sculley, the CEO he had brought into the company. At the time of the interview Jobs was running NeXT, the niche computer company he had founded after leaving Apple. During the interview, Jobs was at his charismatic best - witty, outspoken, visionary. In the end, only a part of the interview was used in the series and the rest was thought lost. But recently a VHS copy was found in the series director's garage. Now, cleaned up with modern technology, and put into context by Cringely, the entire interview will be screened in Landmark Theatres. -- (C) Official Site
Cast
Critic Reviews for Steve Jobs: The Lost Interview
Audience Reviews for Steve Jobs: The Lost Interview
½
Steve Jobs: One Last Thing is a pretty good affair in terms of a short documentary as it tells the story of the man behind Apple. What we have here is a short that chronicles the life of Steve Jobs and his rise to be one of the most influential people in the tech industry. Although not a groundbreaking documentary by any means, as the short gives us info that those familiar with Job' story already know, but to those who want to know about Jobs, but don't really know his story, One Last Thing is well worth seeing. The film at times may be light on content, but it does paint a vague portrait of Steve Jobs and gives you enough insight into the man and his legacy. For its short run time of 60 minutes, One Last Thing is a pretty good effort and manages to be entertaining, but at times it could have been better as well. However, the film is well worth seeing if you're interested in the subject and it works quite well for what it tries to accomplish. Apple computers are one of the most financially successful companies and Steve Jobs created something unique and this short gives an insight into his story. Although not truly in depth, the documentary manages to give you enough facts to know more about jobs and his contribution to the tech industry. For what it is, it manages to tell an impressive and interesting story about the man who changed the way we do things, and if you're looking to know about Steve Jobs, this is quite entertaining for what it is, but at the same time a more thorough documentary about Steve Jobs would be great. But for now, this one does the trick.
Steve Jobs: The Lost Interview Quotes
There are no approved quotes yet for this movie.