Stigmata
(1999)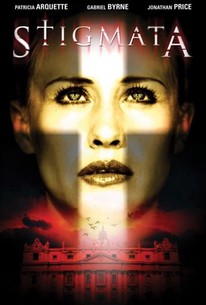 Movie Info
Stigmata is a supernatural suspense story about good, evil, and faith. Frankie Paige (Patricia Arquette) is a hair stylist in her mid-20s who has no strong religious convictions until odd things start happening to her after she's given a rosary by her mother: she begins speaking with another person's voice; unknown and unseen forces start to attack her; and she develops stigmata, bleeding wounds that spontaneously appear on her wrists, feet, and side, as Christ was wounded at Calvary. Some people believe that a holy miracle has been visited on Frankie, though no one can say why. A Cardinal from the Vatican (Jonathan Pryce) sends a priest, Father Andrew Kiernan (Gabriel Byrne), to investigate Frankie and her condition; after getting a first-hand look, Father Andrew finds himself less concerned with whether Frankie's wounds are a legitimate miracle and more concerned with saving her life. Billy Corgan, leader of the rock group The Smashing Pumpkins, composed the score for Stigmata in collaboration with keyboardist Mike Garson.
News & Interviews for Stigmata
Critic Reviews for Stigmata
Audience Reviews for Stigmata
½
Interesting concept for a horror film, Stigmata is quite underrated. Although definitely not perfect, the film manages to be good enough entertainment. The big problem with Stigmata is that it relies too much on its special effects to create its horror. Stigmata plays out like a special effects feast. I think it's a shame because the film had so much potential in being a strong horror film. This is a decent film at best with an interesting story; however director Rupert Wainwright is very strong on visuals and peppers the film with far too many effects. If the film would have used fewer effects, then maybe this would have been a much more memorable horror flick. Stigmata isn't a bad flick by any means, but there's definitely room for improvement. The high points of the film is it's a very atmospheric film, and if director Rupert Wainwright would have toned down the effects, and focused more on the dark, brooding atmosphere, then Stigmata would have been a much better film. I enjoyed the film, and I don't believe the film is as bad as what everyone has said it would be. This could have been a great film, and a hint of its brilliance is apparent, but is over done with too many effects. On the other hand, the plot is interesting and really original. If the special effects would have been toned down, and director Rupert Wainwright would have focused more on the tone and atmosphere of the film, I think Stigmata would have been a much better film. Overall this isn't a bad film, but it's not a good either. It's a decent popcorn horror flick from a director who clearly goes for visuals rather than substance.
Stigmata is mediocre at best. The overall pace and style are a bit on the dull side, as is the repeated voice-overs layered on to scenes from previous scenes. The score and soundtrack aren't all that great either, even with the partcipation of Billy Corgan. The whole piece just feels tired and unenergetic. The only time it gets interesting is during the possession scenes, and eveything surround them and leading up to them is dull. It isn't boring, per se, just lacking the confidence and energy needed to drive it. The biblical aspects are interesting, and it's also nice to see people like Gabriel Byrne and Jonathan Pryce, but it needed more. Perhaps Rupert Wainwright wasn't the right director for the material. Patricia Arquette was, however, the right actress for the lead role. She's always had a haunted quality about her that filters through in her roles whether she means it to or not, but it works here. The entire film can't be saved by those things alone though, and it winds up lacking the parts to make it a whole.
Tim Salmons
Super Reviewer
½
Patricia Arquette plays Frankie Paige, a woman who is a self-proclaimed athiest. One day, after receiving a package from her mother in Brazil, she starts to get the marks of the Stigmata. When a person gets the marks, they receive the same wounds that Jesus did on the cross, namely the 5 wounds of the hands, the feet, the head, the back and the side. But only the most religious people usually receive the marks, and Frankie is far from religious. Her marks are unexplainable. The Vatican has a department that goes out to explore and investigate people who report seeing signs from God. Father Andrew (Gabriel Byrne) is assigned to meet with Frankie. He too can not explain the Stigmata but knows that unless he can figure out why this is happening to her, she will die. Stigmata had the look of a futuristic sci-fi film. It was always raining, strange lighting, and lots of quick cuts. There were a lot of double exposure shots, voices and hallucinations and people screaming. It was too much. Frankie gets this haunted rosary and immediately stats getting the marks of the Stigmata. That's fine. But then the movie gets bogged down. There are too many starts and stops. Things start to happen, Frankie gets possessed by a strange spirit, and then out of nowhere it stops. This happens way too much. You start to feel like they're finally getting to the point, and then... nothing. It was only within the last 15 minutes that things started to pick up. Once the reasoning is explained and we see the true nature of the Vatican, things get interesting, leading to an explosive ending. But before that I kept thinking, just get to the damn point. With a movie like The Sixth Sense, I felt somewhat the same way. But with that surprise ending, I understood why it was made the way it was. With Stigmata, there was no need to keep building up suspense only to let you down. Things could have been explained as the movie went along, rather than waiting to the end to throw everything at you. And how that rosary ended up playing a part in the Stigmata happening to Frankie was never really talked about. I wish that they had cut down on the quick edits and actually told a story. I wish that they had decided that this story was able to carry the movie, and not felt the need to throw in a lot of effects that took away from the film. I think the story was a good one, especially, once again, when everything was finally explained. But in this day and age it seems that MTV-style editing and special effects carry the day. Overall I found Stigmata to be a tease. It would bring you to the edge and then all of a sudden stop. It was only the last 15 minutes or so that made it worthwhile at all.
MisterYoda ?
Super Reviewer