Still Crazy
(1998)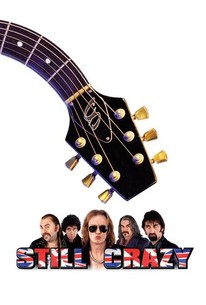 TOMATOMETER
AUDIENCE SCORE
Critic Consensus: Still Crazy can't completely escape the shadow left by the classic rock mockumentaries of the past, but it earns a commendable number of laughs in its own right.
Movie Info
Twenty years after Strange Fruit's highly publicized breakup in 1978 at the Wisbech open-air festival, the band-keyboardist Tony, who was working as a condom salesman in Ibiza; bassist Les, now a roofer in the frozen North of England; drummer Beano, leading a reclusive existence in his mother's garden; ultra-vain lead singer Ray, living beyond his means with his second Swedish wife; and Brian, the fragile lead guitarist who is currently MIA-is persuaded to get back together for a reunion concert, Wisbech 1998. STILL CRAZY charts their increasingly desperate efforts to recapture the magic, the music, the lost opportunities and the missed performances of their prime.
Critic Reviews for Still Crazy
Audience Reviews for Still Crazy
When you see the poster for this movie it tells you everything you need to know. Its a mock cover of the famous Rolling Stone magazine featuring the aging 70's band 'Strange Fruit'. You can tell quite easily the movie is going to be a good laugh by the quite disturbingly haggard and unsexy looking pose from Nighy in the centre, its funny and icky at the same time. The plot, as you can imagine, is all about getting the band back together for a reunion concert. Back in the day 'Strange Fruit' were on the brink of stardom but it all fell apart when their lead singer died of a drugs overdose. Twenty years later Rea trying to get the guys back on-board whilst having to deal with each members current problems and the confrontations that have reared up again. Eventually, once everybody is brought together again, it is discovered their old lead guitarist (brother of their old lead singer) has also apparently died of a drugs overdose (as is the norm in this business). This forces the band to hire a much younger guitarist for their comeback adding more tension. Can the lads all come together and prove to themselves they've still got what it takes? or they had what it took originally to make it to the big time? I think the casting is the one main factor that makes this film work, the small British ensemble casting of Nighy, Nail, Rea, Connolly and Spall. Not only does this group of oddball character actors gel together perfectly but visually they actually look like an aging 70's rock band too. Nighy as the flaky somewhat slow long haired rock-star lead singer, Connolly has always looks the part of a hippie rock singer so no worries there, Rea with his curly Brian May hairdo, Nail the deep conscientious heart of the band, the hard worker with strong morals and family values and finally Spall looks like a dirty unwashed biker with Inland Revenue issues. I liked the whole loggerhead scenario between Nighy's character and Nail's character. Nighy's character being the epitome of a glamorous fame obsessed money grabber, his larger then life rock-star lifestyle clashing against the quiet brooding song writer of Nail's character. Nighy does tend to be the problem in the band for the most part with his overbearing wife and the fact he is still haunted by the reality that he was hired as a replacement for the bands old lead singer. He tries to elevate his performances with glam costumes and stage effects because he's insecure over his own abilities, now being much older. This in turn affects the band and their overall performances which provides both amusing and sober sequences. The situations and scenarios are really authentic within this film. The group having to slum it around backstreet nightclubs for work and recognition, dodgy stage safety, trying to re-tune their skills whilst bickering with each other, bad food on the go, little money, poor accommodation and the obligatory sex drugs and booze problems. This angle is stronger because its also about a group of old men trying to rekindle something great they once had, reigniting an old flame. The outlook on life and the music is very different from their younger days, its not all about sex drugs and roll 'n' roll anymore, there is more to it than that. Sure they wanna be like their younger selves again and uncork that lightning in a bottle but the team has to learn to settle old scores, move on and help each other with their dreams. The locations humour visuals and dialog is all typically British and it is a hoot to watch but the fall outs and reconciliations along the way do get a bit frustrating, you just wanna slap them and tell them to get on with it. The movie does tend to drag a tad through the middle, there are some nice montages and some great original musical numbers but the break up of the band midway brings with it lots of moping by Nail's character who can be overly broody. Its mainly Nail Nighy and Rea who carry the film honesty, Connolly and Spall tend to fade in and out of the background whilst Matheson does his best Liam Gallagher walk at one point. The finale and its little twist is cute but completely predictable, but we all knew it would end on a happy note I'm sure. A fantastic nod to the late 60's 70's glam rock era of course, many influences, very relatable for many I'm sure and very very very British with its dry wit and toilet humour. Personally I think the film should of been called 'Strange Fruit'...rock 'n' roll forever!
Phil Hubbs
Super Reviewer
I REALLY like this film. It's the story of a once-legendary 70's rock band called Strange Fruit who split acrimoniously and then are asked to reunite for a 20th anniversary concert. They are of course VERY rusty, as they all moved on outside the music business, and there are a lot of old wounds from their days together that are just scabbed over but not quite healed. There's just so much about this to like I don't know where to start, but how about the cast. Everyone including Stephen Rea and Timothy Spall do a great job, but Bill Nighy stands out as the cocky lead singer who believes the whole band hates him because he replaced a beloved singer who OD'd years before. And Billy Connelly nearly steals the show as the roadie Hughie, who acts as a chorus for the action and a babysitter for the band. And Actor/Director/Screenwriter Bruce Robinson puts on the wearied and wounded rock star coat like he's been wearing it all his life. The original music, while not quite Grammy quality, is a good fit and sounds like it could be 70's arena rock. And why not? It was written by such as Mick Jones and Jeff Lynne, not a bunch of idiot screenwriters who haven't listened to the radio since Glenn Miller. And the fact that the actors did their own singing just made things even better. The singing sounds a little rough, but I think that's the point. These guys are older and out of practice, and they should sound like it. If you liked The Commitments, pair it up with this as a double feature. Some really funny scenes, along with some poignant ones as well, make this film a delight. "The Flame Still Burns".
½
What do you get when a has-been group of 70's rockers gets together again? A pretty good movie! You can imagine the unfinished conflicts that must be resolved.
Still Crazy Quotes
| | |
| --- | --- |
| Hughie: | I think God just got sick of that 70s excess. That's why He invented the Sex Pistols. |
| Hughie: | I think God just got sick of that 70s excess. That's why he invented the Sex Pistols. |