The Sting II
(1983)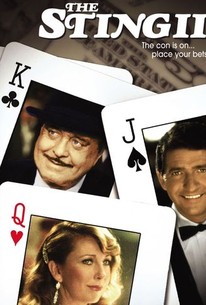 Movie Info
Made ten years after The Sting tickled and impressed audiences, this sequel lacks most of the charm, humor and surprise that made the first film such a hit. Featuring Jackie Gleason and Mac Davis in the roles originally essayed by Paul Newman and Robert Redford, the story centers on the attempts of the two con artists to fix an important prizefight to line their pockets and get revenge upon their nemesis.
Critic Reviews for The Sting II
Audience Reviews for The Sting II
Here's a movie that has no right to work, but somehow it does. Jackie Gleason and Mac Davis play the characters made famous by Paul Newman and Robert Redford...and yet, they don't. While their characters share the same last names, and obviously are meant to be the same characters, they all have different first names. I'm not sure what the intention was, but there you have it. When one of their old con gang is murdered by a mobster (same movitation from the first movie), they reuinte their gang to take him for everything he's worth. They are aided and hampered by the mobster they took for $500,000 years before. The individual performances by the two leads are fine enough, but they have none of the natural chemistry shared by Newman and Redford. Oliver Reed takes over for Robert Shaw as the Chicago banker they originally ripped off, and he has a certain fun with his role as the mystery manipulator of many of the characters. Karl Malden is the new mark, and he gives a good performance as the unknowing target of the con men's plan. Teri Garr is wooden as a 2x4 as Davis' love interest, and the lone woman in the con gang. Many people see this as blasphemy to the original, but while it is not even close to being in the same league as the first film, it's still an enjoyable con game, with its own share of twists and turns. Most of them predictable, but there are a couple of "didn't see that coming" moments. An interseting little distraction, and not nearly the cinematic afterbirth its been made out to be.
RJ MacReady
Super Reviewer
The Sting II Quotes
There are no approved quotes yet for this movie.