Stir Crazy
(1980)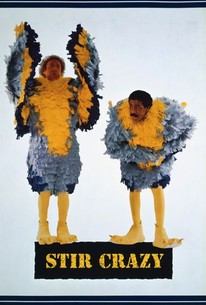 Movie Info
After the excellent audience response to their teaming in Silver Streak, Gene Wilder and Richard Pryor reunited for this zany comedy. Wilder and Pryor play a couple of out-of-work numbskulls who take a promotional job that requires them to dress up like gigantic woodpeckers. Unfortunately, a pair of thieves, likewise decked out in woodpecker suits, pull off a bank job not long after Wilder and Pryor make their first public appearance. The boys are arrested and sentenced to 120 years each (at this point, we know we're not dealing with real life). After a concerted (and hilarious) effort to make the best of things "in stir," Wilder and Pryor break out of jail, hoping to track down the genuine thieves. The mess never really works itself out, suggesting that perhaps the stars had a Stir Crazy II lurking in the recesses of their minds. Written by Bruce Jay Friedman and directed by Sidney Poitier, it never did spawn a sequel, though a TV series spin-off, starring Larry Riley and Joseph Guzaldo, briefly surfaced in 1986.
News & Interviews for Stir Crazy
Critic Reviews for Stir Crazy
Audience Reviews for Stir Crazy
Harry Monroe: A hundred and twenty five years... Oh God... Oh God... I'll be a hundred and sixty-one when I get out. "Two jailbirds who just want out of the cage." I've always passed on watching Stir Crazy because a pairing of Richard Pryor and Gene Wilder didn't sound too great to me, but after thinking about it I thought it could be fun. I like Richard Pryor as a comedian a lot and Gene Wilder is a very good, over the top comedic actor. Although Stir Crazy is the duos second project, it's the only one I've seen and I have to say, it was a fun ride.  Skip and Harry are both fired from their jobs in New York on the same day, so they decide to head west to California to try to make it in Hollywood. They don't make it that far though when they stop in a town that Skip's really likes. When they are mistaken for two bank robbers, they are sentenced to 125 years in a maximum security prison. There may be a way out though and it relies on Skip's rodeo skills. Stir Crazy is nothing to get too excited about, but overall it's a pleasant and funny comedy. I liked both Richard Pryor and Gene Wilder in it, both of whom looked like they were have a good time. Stir Crazy's worth a watch if you're into the two actors.
Melvin White
Super Reviewer
½
This has to be the best Wilder and Pryor combo by far, the sequences set at the beginning of their jail time is pure gold, it loses it at the end as the film progresses towards the surprisingly dull escape part of the plot but rest assured the rest of the film is hilarious. Wilder trying not to snap in prison is dynamite, Pryor was never quite as good as Wilder but he holds his own and is the perfect sidekick or foil. Poitier directs well but I don't think you could go wrong with this pair, its pretty their best film I think.
Phil Hubbs
Super Reviewer
Hilarious movie, a classic starring comedy duo Richard Pryor and Gene Wilder. I love it, and I highly recommend it.
Stir Crazy Quotes
There are no approved quotes yet for this movie.