Stoked: The Rise and Fall of Gator
(2003)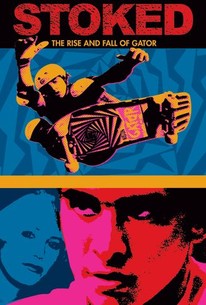 TOMATOMETER
AUDIENCE SCORE
Critic Consensus: The harder they come, the harder they fall -- this film shows, in raw, gripping detail, that even skater dudes can't resist the life of the rich and famous. It's more poignant than hard-core, and gives us a portrait of a life run over by the whims of the entertainment industry.
Movie Info
The aggressive style of Mark "Gator" Rogowski (a.k.a. Gator Mark Anthony)--his unpredictable lines, and outrageous personal antics--made him a favorite on the 80's pro skateboarding circuit, and for years he rode a career wave of fame, wealth, and world travel. At the end of the decade Gator found himself with personal and career troubles, and tried to reinvent himself with a name change, new sponsor, born-again Christianity, and a split from his longtime girlfriend. No one knew how bad his mental state had slipped, until in the spring of 1991, when--at the age of 24--he confessed to the murder of a 20-year old girl known well by many in the skateboard scene. Gator is now serving 31 to life in prison for rape and murder. This chronicle is the result of six years of persistence and investigation, the film is really about how the commercialization of a once authentic youth culture curdled the fortunes--and psyche--of its first golden boy.
Critic Reviews for Stoked: The Rise and Fall of Gator
Audience Reviews for Stoked: The Rise and Fall of Gator
½
Gator the rise and fall of Gator is just one of those documentaries that even if you arent into the subject matter will keep your fall attention from the first shot to the last this documentary follows the story of 80's vert skater Mark *gator* Rogowski who let fame and drugs spiral his life out of control untill the fateful day when he was convicted of murdering his a girl he knew of course as with most documentary's ull see interviews by the people that knew him and stuff from gator himself really worth a watch
½
The synopsis says it all: The rise and fall of 80's vert skateboard legend Mark 'Gator' Rogowski.
Stoked: The Rise and Fall of Gator Quotes
There are no approved quotes yet for this movie.