Stolen
(2012)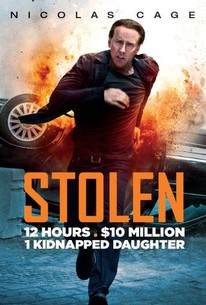 Movie Info
Will Montgomery (Nicolas Cage) is a master thief who after being double-crossed in a heist gone awry is sent to prison for 8 years. Upon his release he's ready to leave his criminal past behind and try to rebuild a relationship with his estranged daughter Allison. The FBI and his old cohorts believe that he hid the loot from the last heist 8 years ago, $10 Million in Bonds. To get his hands on it, his old partner Vincent kidnaps Allison and demands the entire $ 10 Million as ransom. Montgomery only has one day to get the $10 Million ransom but much to the disbelief of the FBI on his trail and Vincent, Will doesn't actually have it. Instead, he must trust his instincts and his old partner in crime, the beautiful, sexy and smart Riley, to do one more, clever heist to get his daughter back alive before it's too late. -- (C) Official Site
Critic Reviews for Stolen
Audience Reviews for Stolen
Simon West and Nicolas Cage team up for the intense action thriller Stolen. The story follows an ex-bank robber whose daughter is kidnapped by his former partner and held for ransom. The cast is quite good, and includes Nicolas Cage, Josh Lucas, and Malin Akerman. However West's directing is a bit uneven, particularly in how he tries to incorporate Mardi Gras into the setting. Still, the action is shot well and gives the film a lot of energy. Stolen is pretty formulaic and has its share of problems, but it's a solid action film (all things considered).
Dann Michalski
Super Reviewer
½
"Stolen needs to be added to all the bad films Nicolas Cage has made lately. It's not his acting. The man is a good actor. He is, and will always be, a favorite of mine. But the material this man has been doing lately is garbage. I don't understand why he continues to pick these films. But it also had Josh Lucas and Danny Huston in it as well who are good actors too. I guess everyone just wanted an easy paycheck. The action is mediocre and the acting is OK, but over the top by a couple. The only one I really liked in this was Malin Akerman. The movie is poorly directed and scripted. They managed to pull off a good cast, but even they couldn't save this."
♥˩ƳИИ ƜѲѲƉƧ♥
Super Reviewer
½
A sharp and fast-paced action-thriller. Director, Simon West and Star, Nicolas Cage re-team for the first time since Con Air to deliver another fast and furious thrill-ride. It`s a cool and surprisingly good film. A smart, thrilling, and wickedly entertaining movie, It starts off as a heist film then turns into a exciting cat and mouse game that delivers some solid twist and thrilling action scenes. A pulse-pounding thrill-a-minute action-packed ride. An explosive good-time to watch. A great all-star cast. Nicolas Cage is terrific, he gives a solid and great performance, he has been showing much better promise as of lately with this, Seeking Justice and Ghost Rider: Spirit of Vengeance, looks like Cage is actually enjoying his job again. Danny Huston is fantastic as usual. Josh Lucas is electrifying, he dose not fail to play at playing a great villain.
Stolen Quotes
There are no approved quotes yet for this movie.