Stolen Children
(1992)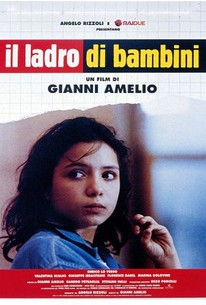 Movie Info
Moving, beautifully acted story of a carabiniere who is assigned to transport two Milanese children--a nine-year-old boy and his eleven-year-old sister--to a Sicilian orphanage after their mother is sent to jail for forcing the girl into prostitution. As they get to know each other during their journey, the carabiniere comes to care for the children and decides to take them on some detours that could leave them with a few happy memories.
Critic Reviews for Stolen Children
All Critics (6) | Top Critics (4) | Fresh (6) | Rotten (0)
Here is a movie with the spontaneity of life; watching it is like living it.

A sublime movie in the neorealist tradition, in which man helps two damaged children discover, for a few days, the childhood that has been denied them.
September 8, 2004 | Rating: A+
Audience Reviews for Stolen Children
Ill Ladro di bambini was a heartbreaking and a uplifting movie. The story of a relationship between a young Carabiniere Antonio and 2 children he was escorting to a Children Home.These children were a 11 yrs old girl and her little traumatic brother who were left without parents, because the girl was prostituting by her own mother for two years, so she got busted and send to jail. The title may be confusing,you might think that the Carabiniere stole the children, but the children were stolen from their childhood long time before. All they got was each other,and what this story was all about was the sacrifice Antonio did for this children, even he was not prepared but he offered them love, trust and friendship. Beautiful movie. So real.
Daisy Maduro
Super Reviewer
Stolen Children Quotes
There are no approved quotes yet for this movie.