The Stoning of Soraya M.
(2009)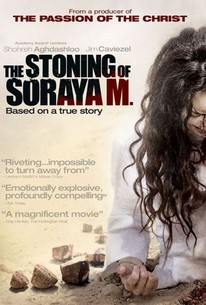 TOMATOMETER
AUDIENCE SCORE
Critic Consensus: The Stoning of Soraya M. nearly transcends its deficiencies through the sheer strength of its subject material, but ultimately drowns out its message with an inappropriately heavy-handed approach.
The Stoning of Soraya M. Photos
Movie Info
Director Cyrus Nowrasteh teams with screenwriter Betsy Giffen Nowrasteh to illuminate the dangers of religious fundamentalism, gender apartheid, and mob rule with this fictionalized adaptation of Freidoune Sahebjam's best-selling novel centering on a true-life tragedy. The story takes place in 1986, just as Khomeini is coming into power in Iran. Undercover French journalist Freidoune Sahebjam (Jim Caviezel) is traveling though a small southwestern village when his car breaks down. Surrounded by strife but left with little choice other to wait until his car is repaired, the anxious Freidoune is soon approached by persistent local Zahra (Shohreh Aghdashloo), who convinces him to follow her into the courtyard behind her home. There, she reveals to him that she has just borne witness to a most heinous crime. Just the previous day, Zahra had watched the men or her town stone an innocent woman to death. That woman was Soraya (Mozhan Marnò), long-suffering wife of abusive tyrant Ali. Soraya wed Ali in an arranged marriage, never realizing the horrors that she and her children would endure under her husband's heavy hand. When Ali requested a divorce so that he would be free to marry a 14-year-old girl, Soraya boldly refused, knowing that she and the children would most certainly starve to death without a husband to support them. Ali was too poor to return Soraya's dowry as custom dictates in a divorce, but he found another way out of the marriage. Under Shariah law, adultery is a crime punishable by death if the accused is unable to prove her innocence. Scheming with the newly installed, counterfeit mullah, Ali accused his wife of adultery. In order to ensure that she had no chance of defending herself, he blackmailed several male villagers to testify on his behalf. A tribunal was quickly called, and Soraya's fate forever sealed. ~ Jason Buchanan, Rovi
Cast

News & Interviews for The Stoning of Soraya M.
Critic Reviews for The Stoning of Soraya M.
Audience Reviews for The Stoning of Soraya M.
Anyone interested in what goes on in religio-fascist cultures should see this horrifying and moving film about a woman tortured and ostracized for little reason other than that she's a woman. Powerful film.
Christian C
Super Reviewer
This movie portrays a moment in1986 in an area of the world able to uphold the social graces of the Old Testament era. It is here that women can be bartered into marriage by their parents at the age of 13. They can be accused of adultery and be burdened with proving their innocence rather than burdening the accuser with proof of guilt. Lastly, women convicted of adultery can be stoned to death by their village and adulterous pedophile husbands in the name of righteousness. The film doesn't do any more than furiously outline this infuriating story. There is no attempt to understand the deep-seated cultural influences that prevent these values from evolving. A 2010 Pew research poll of Arab nations found that 84% of Egyptians favored the death penalty for anyone who leaves Islam, 82% believed adulterers should be stoned to death, and 77% favored cutting off the hands of robbers. Where is the movie that at least attempts to explore why?
Matthew Slaven
Super Reviewer
½
The Stoning of Soraya M. is a film that every one should see. It is an extremely powerful, shocking, heart-wrenching and unforgettable film that looks into rural Iranian life, and the horrifying fate a woman might be forced into. Shohreh Aghdashloo, Mozhan Marno and the rest of the cast deliver superb performances that should have gotten award attention. NOTE: This film contains a long and very graphic, disturbing stoning sequence.
Raymond Wieser
Super Reviewer
The Stoning of Soraya M. Quotes