Stop-Loss
(2008)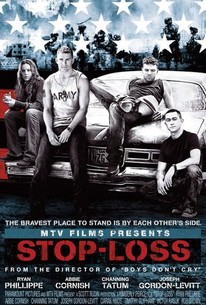 Movie Info
After serving his tour of duty in Iraq, a young American soldier who is ordered to return to the front lines as part of the military's controversial stop-loss policy opts instead to go AWOL in a thought-provoking military drama directed by Kimberly Peirce. Sgt. Brandon King (Ryan Philippe) is a decorated Iraq War veteran who once served his country with pride. After his tour of duty comes to an end, King returns to his Texas hometown and attempts to pick up where he once left off with a little help from his family, as well as long-time best friend and war buddy Steve Shriver (Channing Tatum). But just as Brandon, Steve, and the rest of their war buddies begin to settle back into civilian life, Uncle Sam comes calling on them once again. Suddenly ordered back into active duty, the disillusioned war veteran begins to question not just his ties to family and his longtime friendships, but his capacity for love and his sense of honor as well. ~ Jason Buchanan, Rovi
Critic Reviews for Stop-Loss
Audience Reviews for Stop-Loss
A solider, whose tour of duty in Iraq is over, is victim to a government policy that denies him his release. The central dramatic conflict about whether this solider should return to Iraq is a compelling and complex issue, and director Kimberly Pierce treats it with the gravity it deserves, presenting sides that would appeal to most left-leaning peacenics and most veterans of the war. I also think the PTSD was presented well with King being functional most of the time until situations bring back the worst of his time there. However, Channing Tatum is awful, clearly trying too hard to be a "serious dramatic actor." The film also diverts from the principle conflict, as King visits the family of a dead solider and another soldier in the hospital; it seems like these scenes relate more to Pierce's politically motivated desire to capture all sides of the conflict rather than tell the story. Finally, the beginning of the film is structured like a bad episode of The Real World, as though Pierce realized she was working for MTV and needed to buoy her Gen X kudos. Overall, this is a good, important story even if the filmmaking isn't all it can be.
Jim Hunter
Super Reviewer
Stop Loss is one incredible drama film. With an incredible cast at hand, director Kimberly Peirce tells the story of an Iraq war veteran which because of the Stop Loss policy of the U.S Military, is forced to stay in the military against his will. Stop Loss is a brilliant film that exposes the ludicrous Stop Loss policy. Starring Ryan Phillipe, in what I consider the best performance of his career, Joseph Gordon-Levitt delivers a great performance as well. Stop Loss is a well paced drama film with an important story. Of all the films that Ryan Phillippe has done, none has come close to Stop Loss. This is a powerful film that is superbly well done. Kimberly Peirce follows up her debut feature film, Boys Don't Cry with this intense war drama. The film at times struggles with its material, but it gets the point across and the film, I think is significant as a picture that embodies the nature of service men everywhere. Watching this film, you realize what these men go through and what they sacrifice in the process and it makes you appreciate what they do that much more. If you enjoy a good drama/war film, then Stop Loss is the film for you. Stop Loss manages to be a terrific, emotional journey for one soldier who is conflicted with doing the right thing. A phenomenal, and different war film. I think Stop Loss delivers a refreshing dramatic experience while using the Iraq War as backdrop for its story. A very underrated film, and one that shouldn't be missed.
½
I hope that there's more to "Stop Loss" than what's depicted in this movie. It's disturbing that one is left helpless and with no option when On returning home after serving for about 5 years in Iraq, the protagonist doesn't intend to go back. He's taken aback when he's told that, being stop-lossed, he'll have to leave for Iraq again soon. He's offered no other favorable option. He's not willing to accept this, and goes AWOL to make efforts to get out of this situation. A person volunteers to serve for his nation, does his duty for several years loyally and returns. What's wrong if he doesn't wish to go back? How fair is it to make one so helpless? I hope that the "stop loss" provides reasonable options, and doesn't just enforce anyone who's unwilling to go.
familiar stranger
Super Reviewer
Stop-Loss Quotes
There are no approved quotes yet for this movie.