Storage 24
(2013)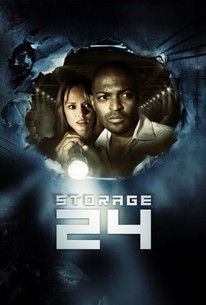 Movie Info
London is in chaos. A military cargo plane has crashed leaving its highly classified contents strewn across the city. Completely unaware London is in lockdown, Charlie and Shelley, accompanied by best friends Mark and Nikki, are at a Storage 24 dividing up their possessions after a recent break-up. Suddenly, the power goes off. Trapped in a dark maze of endless corridors, a mystery predator is hunting them one by one. In a place designed to keep things in, how do you get out?
News & Interviews for Storage 24
Critic Reviews for Storage 24
Audience Reviews for Storage 24
½
It'd probably be pretty jingoist of me to imply that a British microbudget horror film is better than an American microbudget horror film of the same vein purely by virtue of being British, but seeing as I'm an Australian and so it's not really patriotic for me to lean one way or the other, I'm gonna go ahead and outright say it: "a British microbudget horror film is better than an American microbudget horror film of the same vein purely by virtue of being British". Storage 24 isn't breaking any new ground, but there's some neat practical effects and often even features bearable acting quality.
I wouldn't call this the best monster film I've ever seen, The Host is, like, worlds above this movie in almost every aspect. The writing, the acting, the story, the comedy. Everything, but this wasn't that bad of a film. I feel like I don't have much to say about this film, but watch me write a 1,000 word review. I hope that is not the case as this film really just came and went without making much of an impression on me. It's not that bad, when thinking back on it, but it's not something that will be particularly memorable to you 20 minutes after finishing it up. In fact, I finished the movie and I immediately went to sleep. It's that type of film, you just watch it and you're done with it. You don't think about it, you don't talk about it, you're just done. I suppose that should be a compliment, but I don't think it is in the sense that you don't really react to anything that you see. At least in shitty horror movies there's the release of that pent-up frustration over having seen a terrible movie. It's therapeutic, in a sense. It's not that I enjoy watching shitty horror movies because it gives me a chance to shit on it, it's that at least it got some sort of emotional reaction from me. As opposed to this one, where there's nothing for me to really say about it other than it's perfectly watchable. On to the things I did like, the monster make-up is actually really quite good. It's a mix of practical make-up and computer graphics. While the computer graphics are a little lacking, their usage is so minimal that it doesn't really affect the movie one way or another. This make-up effects aren't nearly as good as the ones in Cabin Fever: Patient Zero, a movie that isn't good but has some of the best practical make-up effects in any horror movie in years. But, at the very least, the monster in this film actually looks and feels like one rather than a poor CG. The acting is fairly decent all things considered, the characters, while one-dimensional, at least have some sort of story going so that, at the very least, you can somewhat be invested and care about them. It doesn't always work, but at least they make an effort to give you a reason to want to watch how everything plays out for these characters. The gore is decent, nothing to really write home about. Of course, the film has the stereotypical 'it's not really over' ending that have become an absolute joke in horror for, seemingly, decades now. With that said, this film was perfectly fine. It won't make you feel anything, it won't make you pull your hair out, and that's a good thing for some who look down on the horror genre, but it's not something that will stick with you for a very long time. It's watchable while still being below average, I can't complain a lot. Not perfect, but there's some decent stuff here that some horror geeks will probably appreciate more than me.
Jesse Ortega
Super Reviewer
½
Disappointing film, when I saw the trailers I thought it could've been one of those rare low budget gems......but it's just not very interesting and apart from Noel Clarke the acting is rather poor as well. Didn't think the alien creature design was the best either. It's a missed opportunity.
Storage 24 Quotes
| | |
| --- | --- |
| Mark: | Well, you definitely scratched it. |
| | |
| --- | --- |
| Charlie: | I've got nothin to loose now. So I'm gonna go fight that thing... |