Remorques (Stormy Waters)
(1941)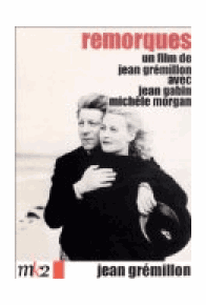 AUDIENCE SCORE
Critic Consensus: No consensus yet.
Movie Info
Originally filmed and released in 1941 as Remorques, this heavy-breathing French melodrama was distributed stateside in 1946 as Stormy Waters. The film was a typical Jean Gabin vehicle, replete with two-fisted action, star-crossed romance and intense emotional turbulence. Gabin plays Laurent, a salvage-boat captain who rescues a merchant vessel from a storm-tossed sea. The vessel's far-from-grateful captain (Jean Marchat) manages to skip without paying Laurent his salvage money, leaving behind his wife Catherine (Michele Morgan). Tending to Catherine's injuries until they reach port, Laurent falls in love with the woman, despite the fact that he is already married to the seriously ill Yvonne (Madeleine Renaud). It takes a lot of doing, but Laurent eventually ends his affair and allows his own wife to expire believing that he's been 100% faithful. An enormous success in France, Stormy Waters was picked up for American distribution by MGM, which surprisingly buried the film in its second-string houses. ~ Hal Erickson, Rovi
Critic Reviews for Remorques (Stormy Waters)
All Critics (1) | Fresh (1) | Rotten (0) | DVD (1)
On top of some interesting insights into the intricacies of traditional French romantic entanglements, this film offers some interesting special effects work.
Audience Reviews for Remorques (Stormy Waters)
½
In "Remorques," the crew of the tugboat Cyclone is enjoying a rare day off at the wedding between one of their crew members, Poubennec(Marcel Duhamel), and Marie(Anne Laurens). But then the wind turns, and the crew led by Captain Laurent(Jean Gabin) rushes back into action at the beck and call of a distress call, leaving the new bride to be comforted by Laurent's wife, Yvonne(Madeleine Renaud). However, the captain(Jean Marchat) of the stranded vessel is suddenly in no hurry, nor are some of his men. By comparison, his wife Catherine(Michele Morgan) has had more than enough and wants out. "Remorques" is an emotionally complex melodrama with more than one point of view that even with the admittedly primitive model work works best when the story is on the high seas. The same can also be said for Laurent as he has not only found a job where he can make a difference, it is also one that he loves. On the other hand, he is also weighed down by his share of responsibilities(he calls himself an 'office boy of catastrophes') and it is a good thing nobody has kids or it would be even worse. But you cannot blame his wife for worrying about what happens in his extremely dangerous job and wants him to quit. As he says, what is he supposed to do, knit? But then why does she have be the one to knit?
Remorques (Stormy Waters) Quotes
There are no approved quotes yet for this movie.