Stormy Weather
(1943)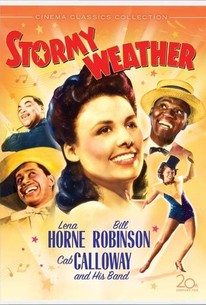 TOMATOMETER
AUDIENCE SCORE
Critic Consensus: Stormy Weather's depiction of the Black community is disappointingly facile, but its delightful musical numbers drown out any missed narrative notes.
Movie Info
Built around the premise of a Big Stage Show, Stormy Weather affords rare "mainstream" leading roles to some of the era's greatest African-American entertainers Lena Horne, Bill "Bojangles" Robinson, Dooley Wilson, Cab Calloway, Katherine Dunham, Fats Waller, and the Nicholas Brothers. The thinnish plotline -- dancer Robinson has an on-again-off-again romance with Horne -- is simply an excuse for lively, well-staged performances. Of the fourteen musical numbers, the most memorable is Lena Horne's rendition of the title song, artfully staged by director Andrew L. Stone. Keep an eye out for uncredited contributions by jazz greats Zutty Hamilton, Coleman Hawkins and Taps Miller. ~ Hal Erickson, Rovi
Critic Reviews for Stormy Weather
Audience Reviews for Stormy Weather
In the early 1940s "Uncle" Bill Williamson (Robinson) is sitting with some neighborhood kids in Hollywood when a theatre magazine arrives celebrating 25 years of African American music. Bill was present for all of it, so we flashback to him as a soldier returning from WWI and get a glimpse of the changing landscape of music for black performers over the previous quarter-century. Bill, his buddy Gabe (Dooley Wilson), and Selina, the girl he wants to make a life with (Lena Horne), carry the show exceptionally. Fats Waller, Cab Calloway, and The Nicholas Brothers give signature performances as well. Some songs and dances like the Cakewalk and the African jungle number show the inherent racism in show-business of that era even though no white characters appear to put up obstacles to these black characters achieving success. This movie treats us to two especially unique experiences. First, The Shadracks was a vaudeville comic duo who do a routine around a broke down jalopy. They demonstrate that even African American performers wore blackface as a mask that was acceptable to white audiences. Second, Katherine Dunham and Her Troupe do a balletic routine as a bridge in Lena Horne's performance of the title song Stormy Weather. This reminded me of Gene Kelly's balletic breaks in films from ten years later, and made me wonder if this could be the origin. I have not seen Cabin in the Sky yet from this same year. Were there other films from this time period that had fantasy dance numbers like this, or is this in fact the inspiration for those later movies that were beloved by the Academy? Great entertainment with rare opportunities to see black stars of this era own the screen.
Byron Brubaker
Super Reviewer
while it's certainly a white fantasy of black life in 1943 (where racism didn't exist) it stars many of the greatest entertainers of the 30s and 40s. bill robinson was already 65 when this was made; lena horne was an up and coming 26. of course their relationship was completely desexualized and the plot was just an excuse for musical numbers anyway. but it's hard to beat fats waller, cab calloway in a zoot suit and the fabulous nicholas brothers.
Stella Dallas
Super Reviewer
This movie has a good story, but I didn't like how it ended. Most of the movie is singing, anyway. Overall, it's okay.
Stormy Weather Quotes
There are no approved quotes yet for this movie.