The Story of Louis Pasteur
(1936)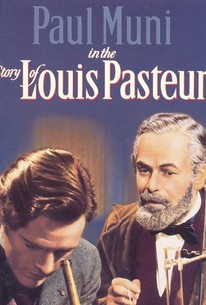 The Story of Louis Pasteur Photos
Movie Info
"Every time Paul Muni parts his beard and looks through a microscope, we lose a million dollars." Producer Jack Warner's lament concerning Muni's historical dramas is cute enough, but hardly backed up by facts; the economically produced The Story of Louis Pasteur proved to be a surprise hit for the Brothers Warner. The Sheridan Gibney-Pierre Collings screenplay concentrates on Pasteur's tireless efforts to find a cure for anthrax and hydrophobia. The famed French scientist is continually challenged and thwarted by his principal rival, hidebound bacteriologist Dr. Charbonnet (Fritz Leiber). The film's climax, involving a desperate Pasteur, the immovable Charbonnet, Pasteur's ailing daughter (Anita Louise), and a hydrophobia-infected youngster (Dickie Moore), is straight out of the Curfew Shall Not Ring Tonight school of melodrama. Within the film's context, however, this contrivance works magnificently. Virtually thrown away by Warners upon its first release, The Story of Louis Pasteur was finally awarded class-A treatment when the picture proved to be favorite with audiences and critics alike; Paul Muni's Academy Award win was the mere icing on the cake. The film's success led to Warners' decision to go ahead with 1937's The Life of Emile Zola, also starring Muni. This time, the studio copped its first Best Picture Oscar.
Critic Reviews for The Story of Louis Pasteur
Audience Reviews for The Story of Louis Pasteur
½
Muni does the biopic over and over and over and over again in his career. Sometimes he falls short but often he is brilliant as he is here as Louis Pasteur.
John Ballantine
Super Reviewer
I've come to love the performances of Paul Muni through the characters he portrayed in the 30's. He is like a character actor who blends into his character through makeup so fully that you don't recognize him otherwise, and yet he plays the leading man with powerful natural delivery of his lines.
Byron Brubaker
Super Reviewer
The Story of Louis Pasteur Quotes
There are no approved quotes yet for this movie.