The Story of Ruth
(1960)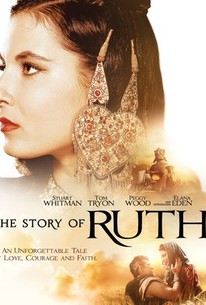 AUDIENCE SCORE
Critic Consensus: No consensus yet.
Movie Info
This is another biblical drama from Henry Koster (The Robe, 1953) that does not measure up to his earlier success, but then any adaptation of a short passage in the Bible would be hard-put to fill over two hours of screen time. Ruth's (Elana Eden) life is followed as she becomes a priestess for the Moabites, ruled over by a high priestess (Viveca Lindfors) whose character is not exactly holy. Ruth eventually falls in love with Mahlon (Tom Tryon) and converts to Judaism. Once Mahlon dies, Ruth decides to escape with his mother Naomi (Peggy Wood) to Bethlehem, where her dramatic story and her love life continue.
Critic Reviews for The Story of Ruth
All Critics (1) | Fresh (0) | Rotten (1)
Ruth runs so true to type that, after listing the attributes of its type, there is little else to say about it, except that it isn't quite bad enough to be outrageous, which seems almost a pity, in a style that, really demands outrage.
Audience Reviews for The Story of Ruth
"Fine retelling of the story of Ruth." If you're familar with the book of Ruth, you'll know that most of the characters are dead from the beginning. Therefore, liberties had to be taken to give the audience a grasp on Jewish and Moabite culture. Henry Koster does a very good job filling in the gaps--nothing hokey or heretical--and when Ruth joins Naomi, the film gets into the meat of the story. Elena Eden (who looks a lot like Haya Harareet from "Ben-Hur") has a pleasant Jewish accent and does an exceptional job as the pagan-turned-believer. She displays love, faith, beauty, devotion and courage and you don't wonder why Mahlon and Boaz fell in love with her. Peggy Wood plays Naomi with a sense of faith and conviction and Viveca Lindfords is paticulary good as the sinister high priestess of Chemosh. The pacing is a little slow for modern audiences, but all in all, "The Story of Ruth" is a sweet, heartwarming film that hits the highlights of the book and deserves to be included in the group of sword-and-sandal epics who do their job well.
Lukas Miller
Super Reviewer
The Story of Ruth Quotes
There are no approved quotes yet for this movie.