The Story of Vernon and Irene Castle
(1939)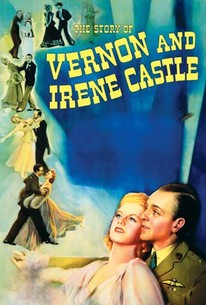 The Story of Vernon and Irene Castle Photos
Movie Info
The last of RKO's Fred Astaire-Ginger Rogers vehicles, The Story of Vernon and Irene Castle is also the least typical. At their best playing carefree characters in gossamer-thin musical comedy plotlines, Fred and Ginger seem slightly ill at ease cast as the real-life dancing team of Vernon and Irene Castle. The stripped-to-essentials storyline boils down to novice dancer Irene (Rogers) convincing vaudeville comic Vernon (Astaire) to give up slapstick in favor of "classy" ballroom dancing. With the help of agent Edna May Oliver, the Castles hit their peak of fame and fortune in the immediate pre-World War I years. When Vernon is called to arms, Irene stays behind in the US, making patriotic movie serials to aid the war effort. Vernon is killed in a training accident, leaving a tearful Irene to carry on alone. To soften the shock of Astaire's on-screen death (it still packs a jolt when seen today), RKO inserted a closing "dream" dancing sequence, with a spectral Vernon and Irene waltzing off into the heavens. The film's production was hampered by the on-set presence of the real Irene Castle, whose insistence upon accuracy at all costs drove everyone to distraction--especially Ginger Rogers, who felt as though she was being treated like a marionette rather than an actress. In one respect, Mrs. Castle had good reason to be so autocratic. Walter, the "severest critic servant" character played by Walter Brennan, was in reality a black man. RKO was nervous about depicting a strong, equal-footing friendship between the white Castles and their black retainer, so a Caucasian actor was hired for the role. Mrs. Castle was understandably incensed by this alteration, and for the rest of her days chastised RKO for its cowardice. As it turned out, it probably wouldn't have mattered if Walter had been black, white, Chicano or Siamese; The Story of Vernon and Irene Castle was a financial bust, losing $50,000 at the box office. Perhaps as a result, Fred Astaire and Ginger Rogers would not team up again for another ten years.
Critic Reviews for The Story of Vernon and Irene Castle
Audience Reviews for The Story of Vernon and Irene Castle
And they are gone: ay, ages long ago These lovers fled away into the storm.
These lines, the opening of the final stanza of John Keats' The Eve of St. Agnes, come to mind as the long run of Ginger and Fred comes to an end. It's their escape into the realm of legend.
Heartbreaking. Although they would reunite through a twist of fate a decade later, this was the last intentional pairing of Rogers and Astaire, the end of their nine film run into cinematic history.
Perhaps because this tragic story is based on the real lives of Vernon and Irene Castle, and, of course, the untimely death of Vernon Castle, that story and the end of the Rogers and Astaire dynasty combine for an even sadder double impact. To see them, in the end, dancing off into the distance in Ginger's/Irene's imagination heightens the melancholy of the moment. The characters and the actors are gone, ay ages long ago. The greatest dancing duo in movie history -- then, now, and forever.
Lanning : )
Super Reviewer
Different from other Fred & Ginger movies in being a bio and probably not too factual but great dancing, their chemistry and Edna May Oliver make it a fine entertainment.
The Story of Vernon and Irene Castle Quotes
There are no approved quotes yet for this movie.