Storytelling
(2002)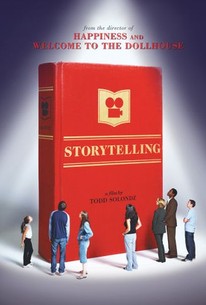 TOMATOMETER
AUDIENCE SCORE
Critic Consensus: Todd Solondz's Storytelling boasts an audacious narrative structure, but fails to deliver on the mechanics of its namesake, yielding a creative exercise that is more interested in satisfying the author's interests than the audience's investment.
Movie Info
Two stories set in two eras against the comical terrain of college and high school, past and present--exploring issues of sex, race, celebrity and exploitation. The first story: On a college campus in the mid-80s, a white female writing student has an emotional experience with her black, male writing teacher. The second story: In 2000, Toby Oxman is a 30-year-old wannabe celebrity and a documentary filmmaker. He sets out to document the Livingstons, an affluent suburban family raising three boys. The eldest is Scooby, a goofy, uninspired high school senior who aspires to be the next Conan O'Brien but whose parents are desperate for him to attend college in the fall. Brady, his 16-year-old brother, is the school's handsome and popular football star. When Brady is injured by another student during a football game, friends and family are forced to take stock of their values and re-evaluate their lives.
Critic Reviews for Storytelling
Audience Reviews for Storytelling
½
There's two stories here: the first is about a writing class, particularly the teacher and two students, all concerned with "creating fiction". The second part concerns a documentary filmmaker interested in showing the real stress applying for college engenders amongst high schoolers. But it's what's beneath the surface and how it's revealed that makes this a sparkler for me, a film that's aware that it's not for mainstream thinking, it's Armageddon without the SFX or CGI.
Kevin M. Williams
Super Reviewer
This is a two-part film, one story about the racial tensions that result when a creative writing student has a tryst with her professor and the other about a documentarian trying to film an unstable teenager. In every sense this is a Todd Solondz film: the long shots and silences, the out-of-place characters, and the cringe comedy. But of all the Solondz films I've seen, I think this is my favorite. The characters are more finely drawn, and even though the themes are opaque, like most of his work, there seems to be more cohesiveness to this effort. I also really enjoyed the performances in the first segment, especially by Selma Blair and Leo Fitzpatrick. The film's main flaw is the opacity of the themes. Why do these two stories belong together? Is Solondz trying to say something about how thin the line is between fact and fiction? I'm not sure. Overall, I liked this film even though there are significant aspects that remain unclear.
Jim Hunter
Super Reviewer
½
The thing about Todd Solondz's "Storytelling" is that you can't simply just watch it as another, random film, because it's not just 'another random film.' You will have needed to have seen Solondz's previous work ("Welcome to the Dollhouse," "Happiness") and grasp the controversy and criticism surrounding him, for "Storytelling" is a meditation on Solondz's sensibilities. Solondz turns his script and lens back on the audience as well as himself. He is questioning both his admirers and his detractors. He is also questioning himself- why he is drawn to this material, why explore such darkness? "Storytelling" is a sort of subtlety brilliant piece of metafiction but it's not all entirely satisfying. These stories are just a tad bit trite, yet they still come with a considerable amount of good- namely the casting (Blair, Goodman, Giamatti, Webber) and Solondz's sharp dialogue and observations. I can't recommend this film to anyone other than fans of Todd Solondz's fascinating and unforgivably complex body of work.
Steven Carrier
Super Reviewer
Storytelling Quotes
| | |
| --- | --- |
| Mr. Gary Scott: | I don't know about what happened...because once you start writing, it all becomes fiction. |
| Mr. Gary Scott: | I don't know about what happened, because once you start writing, it all becomes fiction. |