The Straight Story
(1999)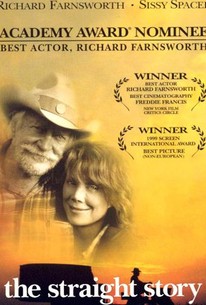 TOMATOMETER
AUDIENCE SCORE
Critic Consensus: With strong performances and director David Lynch at the helm, The Straight Story steers past sentimental byways on its ambling journey across the American heartland.
The Straight Story Photos
Movie Info
From director David Lynch comes a lyrical portrait of one man's real journey across America's Heartland. Filmed along the 260-mile route that the actual Alvin Straight traversed in 1994 from Laurens, Iowa to Mt. Zion, Wisconsin, "the Straight story" chronicles Alvin's patient odyssey and those he meets along the way. When not rolling along at five miles an hour aboard his '66 John Deere, Alvin encounters a number of strangers, from a teenage runaway to a fellow World War II veteran. By sharing his life's earned wisdom with simple stories, Alvin has a profound impact on these characters that color his pilgrimage.
Critic Reviews for The Straight Story
Audience Reviews for The Straight Story
Walt Disney and David Lynch are two names that you wouldn't ordinarily expect to see involved on the same project. Disney is, of course, the leading production brand for family entertainment and Lynch's work couldn't be further from that magical and innocent material. However, that's exactly what we're looking at with The Straight Story which is a complete change of direction from the usually dark and disturbing Lynch and he proves to his naysayers that he's entirely able to construct something of a different nature altogether. Plot: After hearing that his estranged, older brother has taken seriously ill, 73-year-old Alvin Straight (Richard Farnsworth) decides that he's going to put aside their differences and visit him before it's too late. Unable to drive a car or take public transport, Alvin buys himself a ride-on lawnmower and begins his long journey over hundreds of miles in the most unconventional way. Not just in terms of the main characters' namesake, The Straight Story is exactly what it sounds like; a straight and simply told tale that's, without doubt, the most accessible film on Lynch's resumé. Those with a sound knowledge of Lynch will notice that the characters have no nefarious purposes, there's no metamorphosis, dream logic or hidden metaphors. This is an emotional and heartfelt odyssey about self-reflection, regrets and family connections and there's nothing to suggest that Lynch isn't absolutely at ease with lighter material. His film is a beautiful and poignant road trip that's full of pathos and stunningly captured landscapes. Despite the simplicity, Lynch still can't contain his propensity for oddball characters and slightly off-key tones but it entirely works for this material. What's most strange about this story, though, is not as a result of Lynch's involvement but because it's actually based on a remarkable true story. The one thing that will draw reminders to Lynch's usual work is his love for small town America and the odd inhabitants therein. Although he keeps himself on a leash, he is still able to capture the idiosyncrasies and mannerisms of ordinary people which still adds a (albeit lesser) surrealistic flavour to the film. Lynch is aided considerably with regular collaborators as well; Freddie Jones' sublime cinematography captures some stunning images and Angelo Badalamenti's beautiful score compliments the proceedings. At the heart of the film, however, is a commanding and heartfelt central performance from Richard Farnsworth. Rightly Oscar nominated for his superb work, Farnsworth is the beating heart of this story - a man that has come to terms with himself and the mistakes he's made in life but still has enough left in his twilight years to right some wrongs. Sadly, Farnsworth's outstanding performance is tinged with poignancy and sadness itself as the actor died with a self inflicted gunshot wound to the head, shortly after the film's release. Apparently, he himself, was nearing the end of his life with bone cancer and took the decision to go out on his own terms - much like the character of Alvin Straight. A wonderful and measured piece of storytelling from David Lynch. For those that can't handle his darker and more twisted films, then this is one for you. There's no denying it's charm and it's introspective reflection of life and all the challenges that come with it. This really is a pleasant, yet bittersweet journey. Mark Walker
Mark Walker
Super Reviewer
A surprise here even before the film gets to rolling: 1) Its a Disney production and 2) its directed by David Lynch. If ever there was unlikely matchup this is the one. And yet ... a remarkable effort, one for adults only, but not for the reasons you might think. An ailing elderly man travels across country to visit his ailing elderly brother - on a lawnmower. The action happens just about as fast as a lawnmower goes that's what'll freeze out the attention deficit disordered younglings. But for the older amongst us a unique look at a sober speed about what's truly important in life, with quality performances by all concerned.
Kevin M. Williams
Super Reviewer
½
An unusually straightforward and delicate film by David Lynch that calls for a bit of patience from the viewer but proves to be extremely moving and more than rewarding - and Richard Farnsworth is just wonderful, a world of emotions conveyed in every detail of his face and expression.
Carlos Magalhães
Super Reviewer
The Straight Story Quotes
| | |
| --- | --- |
| Lyle: | Did you ride that thing all the way out here to see me? |
| Alvin Straight: | I did, Lyle. |
| | |
| --- | --- |
| Alvin Straight: | There's no one knows your life better than a brother that's near your age. He knows who you are and what you are better than anyone on earth. My brother and I said some unforgivable things the last time we met, but, I'm trying to put that behind me... and this trip is a hard swallow of my pride. I just hope I'm not too late... a brother's a brother. |
| | |
| --- | --- |
| Alvin Straight: | I'd give each one of 'em a stick and, one for each one of 'em, then I'd say, 'You break that.' Course they could real easy. Then I'd say, 'Tie them sticks in a bundle and try to break that.' Course they couldn't. Then I'd say, "That bundle... that's family." |
| Alvin Straight: | I'd give each one of 'em a stick and, one for each one of 'em, then I'd say, 'You break that.' Course they could real easy. Then I'd say, 'Tie them sticks in a bundle and try to break that.' Course they couldn't. Then I'd say, 'That bundle... that's family.' |
| | |
| --- | --- |
| Dorothy: | What's the number for 911? |