Straight Talk
(1992)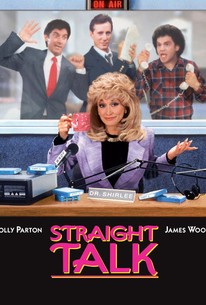 Movie Info
A sweet, innocent and none-too-educated Southern girl (Dolly Parton) gets a job as a receptionist at a Chicago radio station and through a series of mix-ups ends up on the air as the station's new on-air psychologist. Fortunately, what she lacks in schooling, she makes up for in common sense and soon becomes a national sensation. Trouble comes when jealous rivals begin questioning her credentials.
Critic Reviews for Straight Talk
Audience Reviews for Straight Talk
An okay romantic comedy with Dolly Parton and James Woods, who are a strange pair to have in a movie together in the first place. I saw this on TV a while ago, and it's a typical story. It's kinda funny at least, but overall, nothing special.
I love this movie!!! Dolly Parton is a winner in this hilarious comedy.
Donna Dawson
Super Reviewer
Kind of funny and cute as mindless movies go. Takes place in one of those parallel universes that resemble our own but people somehow never really have to deal with consequences AT ALL.
Sunil Jawahir
Super Reviewer
Straight Talk Quotes
There are no approved quotes yet for this movie.