Strange Behavior
(1981)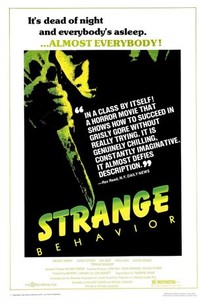 Movie Info
Dead Kids, aka Strange Behavior, is a creepy exercise from director Michael Laughlin--who conceived this as part one of an abortive "Strange Trilogy" which also included 1983's Strange Invaders. Although lensed in New Zealand, the film is set in a sleepy American town, in which a series of gory murders committed by local teenagers are linked to a twisted brainwashing scheme by a deranged behavioral psychologist (note irony please). Despite some humorous details (e.g. one killer dons a Tor Johnson mask) and a nostalgia for '50s pulp horrors (not to mention a fondness for splattery death scenes), the disparate plot elements don't come together as well as they should, failing to live up to the premise's potential for guilty chuckles or gasps of horror. Fiona Lewis is sexually menacing as the mad doc's assistant, but Louise Fletcher's wasted role may make viewers pine for Nurse Ratched. ~ Cavett Binion, Rovi
Critic Reviews for Strange Behavior
Audience Reviews for Strange Behavior
½
an interestingly quirky teen slasher, a bit less generic than your usual slasher flick from the 80s. The plot is decent but quite slow-paced, and there's the occasional brutal stabbing murder, even though they're not very graphic they're nasty enough. It's got a cool musical score by Tangerine Dream too. Overall it's not a brilliant film but worth a look if you like slow-building atmospheric slashers.
This horror movie has a silly plot, but it's so bad, I loved it, it's unintentionally funny and enjoyable because of that.
Strange Behavior Quotes
There are no approved quotes yet for this movie.