Strange Cargo
(1940)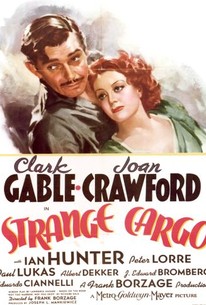 Movie Info
Allegorical and very strange, this drama tells the story of how a group of convicts successfully escape from Devil's Island and as they flee, discover that one of them bears more than a casual resemblance to Christ. This generated considerable controversy among conservative religious groups.
Critic Reviews for Strange Cargo
Audience Reviews for Strange Cargo
½
Clark Gable's next picture after "Gone With the Wind" was "Strange Cargo," where he teamed back up with Joan Crawford. Instead of light romantic comedy, this time the legendary duo brings us complex, rather brainy drama. I would even describe this film as literary. It has its flaws, but "Strange Cargo" is an interesting and enriching work of art with an unusual spiritual undercurrent. Set in the South American jungle, it tells the story of an inmate in a remote penal colony (Gable) and a tough broad from the gutter with no family (Crawford) struggling to get by working in cheap nightclubs (probably including prostitution). Gable and several other inmates break out of the prison, and we follow them on their grueling trek. For reasons I won't explain, Crawford's character ends up going with them. Along the way, they all learn a lot about each other and the demons they're fighting. There are so many characters that it gets a bit dizzying, and the script sometimes is a bit overly brainy. But there's a lot here to appreciate, and I'm saddened that "Strange Cargo" has been so completely forgotten. In my continued exploration of the films of Joan Crawford, I'm realizing something more deeply than ever. The vast majority of good films have been forgotten. American culture has a bizarre tendency to forget about its movies. You'd think that good films would leave more of a trace in the culture. So much good work that no one knows about. One tidbit: the director of "Strange Cargo," Frank Borzage (a man I've never heard of before this), won a Best Director award at the very first Oscar ceremony in 1929. The film was called "Seventh Heaven," starring Janet Gaynor. She also won an Oscar that night. Another forgotten movie from a forgotten director, starring a forgotten actress.
William Dunmyer
Super Reviewer
½
It may seem a strange movie at first, but it's actually a very suspenseful drama, with a very interesting ending, and plus it's got a great starring cast with Crawford, Gable, and Lorre.
"strange cargo" is the last movie of the gable/crawford duo which is highly popular in the 30s until their romance got hindered by mgm louis b. mayer and their seperate marriages. (gable to carole lombard; crawford to franchot tone) practically crawford's off-and-on lifelong affair with gable is the only thing described with a positive light in the speclal feature of crawford's dvd collection despite mostly the interviewees are mocking her animalistic shrewdness with misogynism all the time. gable plays verne, a dubious inmate who is desperate to escape his colonial jail in southern america or obtain a bit of solace of female touch, so he spots on the saloon girl julie(crawford) by sneaking into her dressing room and forcing her to conform into his bossom. tough julie reports him to jail instead, then he frames her as accomplice to get even. a stuck gender guerilla of animosity turning into affection. then on the way of her retreat to mainland america, she stumbles into him again, so they end up in the same lifeboat with other five inmates drifting to america on sea. it has albert dekker as the malicious survivor and ian hunter as the christ figure, the spiritual guide who inspires gable's conscience. peter lorre as the disdained sap who has a crush on crawford, but belittled as pig all the time while the hunky gable pushes crawford around by trashing her good wills of saving him with distrusts. it is literarily clark gable's star vehicle, and the peak of the whole movie would be his temporal betrayal to the woman who sells herself to trade for his freedom then he's on verge of drowning his best friend to obliterate the evidence of his existence. eventually the story is turned around when he decides to go for the righteous: rescue the friend he almost drowns to death and returns to crawford and stop her from marrying pig. it might be a one-man show to demonstrate the wayward overpower of gable's chauvinistic machismo while crawford de-glamourizes herself without even a smear of lipstick as his petite love prey. as the special feature suggests, crawford considers gable the man of her life, and she even volunteers to take carole lombard's unfinished movie "they all kissed the bride" then donoates her earn to the red cross charity to ease off gable's grief like a faithful friend and devoted lover. maybe a woman could only be appreciated when she surrenders to man, only glorified when she's under rosy color of romance, ridiculed ruthlessly while she stands aloof to fight for herself. it is apparent, considering the treatment of crawford's posthumous documentary.
Veronique Kwak
Super Reviewer
Strange Cargo Quotes
There are no approved quotes yet for this movie.