Strange Days
(1995)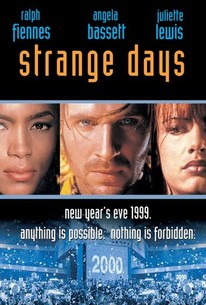 TOMATOMETER
AUDIENCE SCORE
Critic Consensus: Strange Days struggles to make the most of its futuristic premise, but what's left remains a well-directed, reasonably enjoyable sci-fi fantasy.
Movie Info
This epic thriller is set in a hellish Los Angeles during the last days of the 20th century. The tale centers on Lenny Nero, a sleazy grifter who sells voyeuristic scenes. After his lover Faith leaves him, he tries to win her back after learning that she is in danger.
News & Interviews for Strange Days
Critic Reviews for Strange Days
Audience Reviews for Strange Days
½
Tricks, tricks, and more tricks work to disguise this common whodunit from discriminating viewers. There's a murder (naturally) which we find out about with the aid of this new tech that allows the user to experience everything the cameraman does. The killer films his murders and leaves the disc for our detective to find ... and so, who did it? Your job, should you choose to accept it, is to find the galoot. If you've seen a detective flicker not two you'll solve this in a thrice if you can get by all the bells and whistles meant to fool and distract you.
Kevin M. Williams
Super Reviewer
½
Strange Days is an intense and thought-provoking cyberpunk sci-fi murder mystery thriller co-written by James Cameron and former film critic Jay Cocks, and directed by Cameron's ex-wife Kathryn Bigelow. Set in Los Angeles two days before the year 2000, we follow Lenny Nero, an ex-cop turned black marketeer whose product of choice to peddle is a SQUID- a headpiece that allows one to transmit digital recordings of other people's thoughts, feelings, and memories directly into their brain. He sells both the discs, and the equipment. Sex and violence/crime are the primary subjects of request, though Lenny's one rule is that he doesn't deal in "blackjacks" or snuff clips. When not doing his SQUID dealings, Lenny spends his time pining for Faith- his punk rocker ex-girlfriend who is now involved with a shady record executive named Philo Gant. This subplot then gets connected to the rest of the film when Lenny, after receiving a snuff clip of the rape and murder of a mutual friend of his and Faith's, gets embroiled in the resulting murder mystery, which is in turn connected to the recent death of a rapper/social activist on Gant's label. This all sounds really convoluted and complex, but it's actually not. It's mostly just really difficult to try to easily explain without giving too much away, which I sort of already did to an extent. But not too much. Anyways, this is a really intense and thrilling film. The basic ideas of the technology are apparently cribbed from the film Brainstorm which I have yet to see, but want to. I'm not sure how much of an input Cocks had here, but it may not have been much as Cameron also gets a 'story by' credit here. Another fun thing is to try to distinguish Cameron's style from Bigelow's. Sometimes this is really hard, but it adds another level of enjoyment to the proceedings. The film pulls no punches when it comes to the dark and gritty subject matter and content, but mature and open minded viewers will probably find a lot to enjoy here. It's all done quite well, and comes off as earned as opposed to exploitative (and for the sake of it). From a technical perspective, this film is a marvel. There SQUID sequences are appropriately done as POV, often times as long takes/tracking shots. The opening scene especially is quite impressive and effective. Cinematographer Matthew F. Leonetti needs a friggin' medal or something. The performances are also pretty stellar. Ralph Fiennes is tremendous as the sleazy, yet rather empathetic Lenny. As his close friend and bodyguard "Mace" Mason, Angela Bassett is amazing, and this is easily her at her most badass. Her performance is quite strong, and she pulls off the action scenes fairly believably, too. There's also Juliette Lewis as Faith, Michael Wincott as Philo Gant, and Tom Sizemore as an associate of Lenny's. Vincent D'Onofrio and William Fichtner also appear as two unhinged rogue cops. All of these people put in some decent work, and this film is another occasion for Lewis to show off her singing skills. Which brings me to the music. The score is decent, but the non-score soundtrack is where I was really pleased. There's tons of hip hop and heavy metal, and they perfectly complement the grungy/punk aesthetics of the world building, art direction, and set design. All in all, this is quite an amazing film. It's more than solid, though I will say that it does run on for perhaps a tad too long, and the basic plot, though decent, is unoriginal. I mean, as I mentioned, it's basically just a really dressed up murder mystery. It's still pretty great though, so I highly recommend it.
Chris Weber
Super Reviewer
½
I think this really stands out as the greatest example of 90s mindset action/sci-fi. In look and story structure, it has all the elements of the time period crushed together into one extravaganza of gunfire and chaos. It's still funny how believable Ralph Fiennes is as a good guy, you'd just never expect it going in. You've also got Juliette Lewis walking around naked for pretty much the entire running time, so even if you don't like the movie there's a treat for you. One of its other standout contributors is the incredibly under-appreciated villain of the 90s, Michael Wincott. This movie really does have a lot to say about the future of society and pop culture, but it does so in a way that doesn't come off as heavy handed. While it has the shortcomings of being almost too 90s for its own good, the majority of this movie is just amazing. After seeing it a few times, even the not-so-lovable elements seem to disappear.
Conner Rainwater
Super Reviewer
Strange Days Quotes
| | |
| --- | --- |
| Lenny Nero: | This is not like "TV-only-better" ... this is life. |
| | |
| --- | --- |
| Max Peltier: | Cheer up. The world's about to end in ten minutes anyway. |
| | |
| --- | --- |
| Max Peltier: | The issue's not whether you're paranoid, Lenny, I mean look at this shit, the issue is whether you're paranoid enough. |
| | |
| --- | --- |
| Lornette "Mace" Mason: | Memories are meant to fade. They're designed that way for a reason. |