The Strange Love of Martha Ivers
(1946)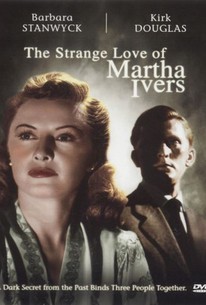 The Strange Love of Martha Ivers Photos
Movie Info
In The Strange Love of Martha Ivers, relationships formed in childhood lead to murder and obsessive love. The wealthy Martha Ivers (Barbara Stanwyck) is the prime mover of the small Pennsylvania town of Iverston. Martha lives in a huge mansion with her DA husband, Walter O'Neil (Kirk Douglas), an alcoholic weakling. No one knows just why Martha and Walter tolerate one another....but Sam Masterson (Van Heflin), an Iverstown boy who returns to town, may just have a clue. At least that's what Martha thinks when Sam asks Walter to intervene in the case of Toni Marachek (Lizabeth Scott), who has been unjustly imprisoned. It seems that, as a young boy, Sam was in the vicinity when Martha's rich aunt (Judith Anderson) met with her untimely demise. What does Sam know? And what dark, horrible secret binds Martha and Walter together? Directed by Lewis Milestone, and based on John Patrick's Oscar-nominated original story, Love Lies Bleeding, The Strange Love of Martha Ivers creates in Martha a unique and interesting, driven, obsessed, and spoiled character, but one not without sympathy. Barbara Stanwyck is outstanding as Martha, with her predatory smile and sharp, manicured nails. Kirk Douglas is surprisingly convincing as a lost, sad, weak man, who loves his wife, but is unable to gain her respect. The Strange Love of Martha Ivers eventually lapsed into public domain and became a ubiquitous presence on cable television.
Critic Reviews for The Strange Love of Martha Ivers
Audience Reviews for The Strange Love of Martha Ivers
½
Rarely has a film about deep-rooted psychosis been presented with such an even-handed touch. Van Heflin plays a normal guy (yeah, quirky maybe, and damaged, but basically normal) who returns to the scene of his twisted formative years to discover two of his old friends have not fared as well. Oh, they might be rich, but they're as messed up as can be. Babs Stanwyck and Kirk Douglas are little more than two-dimensional examples of their neuroses but both manage to imbue their characters with necessary depth. One of the better films that you will ever see.
Kevin M. Williams
Super Reviewer
I liked this movie, it's suspenseful and has a good story and good actors too. It doesn't list Kirk Douglas, but he's in the movie too.
½
Martha Ivers, as you will learn in the first 10 minutes of this movie, is crazy. As a young teen, she makes repeated attempts to run away from her stodgy and controlling old aunt (who also happens to be incredibly wealthy) and join the circus along with her hoodlum boyfriend, Sam. However, she is also friends with Walter, the son of her tutor who, although is kind of wimpy and unexciting, none the less sticks by her and entertains her. Certain events take place which, while beneficial to Martha, Walter and his father, lead inadvertantly to Sam leaving town, and he doesn't return home for 18 years. When he does come back, he meets an attractive girl named Toni, and the two are soon (very suggestively) enjoying adjoining hotel rooms. Martha meanwhile, has grown into a giant of industry, creating an enormous amount of the town's wealth through the new factories she's built. Walter too, has done well for himself, he's now the district attorney, running for re-election that is all but guaranteed, "a sure thing". When Toni gets into trouble for parole violation, Sam goes to his old friend Walter to see if he'll get her out of jail as a favor for old times' sake, but Walter sees Sam as a threat. Thinking he's after blackmail, Walter has Sam beaten and dumped on the outskirts of town. But is it blackmail that he's really afraid of, or is it jealousy over Martha? Martha it seems, is only with Walter out of convenience, or even out of fear. Her past binds her to these two men for life you see, and whereas Walter she can control, Sam she has no power over, and it makes her crazy, or horny, or both. It's a recurring theme between Martha and Sam, she tries to kill him, he gets all worked up and starts kissing her. It's rather unusual to find in a 1940s movie a hero making love to a married woman (even The Big Sleep's story was changed to keep Philip Marlowe from committing adultery). In fact, it's rather difficult to side with Sam at all, as he plays tough guy with the ladies, makes love to married women and in the end, does attempt a blackmailing racket on the married couple after all. The Martha Ivers character is never satisfactorily explored; is she manipulative and vindictive, or is she just sad, scared and mentally unbalanced? It's all the more strange that, out of all the leading characters, she's one of the more minor ones of the film (despite the star power of Barbara Stanwyck and the fact that it's the title role), taking a backseat to Toni (Lizabeth Scott), Walter (Kirk Douglas) and Sam (Van Heflin). The Strange Love of Martha Ivers is about watching some unpleasant or amoral people doing unpleasant and amoral things. I don't think there's one sympathetic character in the whole movie. Also, I'm not so sure some of the elements in the film have aged that gracefully: the dialogue (or is it the acting?) Van Heflin engages the two females in is a little cheesy at times (and alot cheesy at others). Still, for a piece of 1940s mainstream filmmaking, it plays loose with the moral codes of that era and gives us a subliminable kinky subtext.
Devon Bott
Super Reviewer
The Strange Love of Martha Ivers Quotes
| | |
| --- | --- |
| Martha Ivers: | Its the only room I didn't change. [on showing her childhood room to Sam] |
| Sam Masterson: | We were just a couple of kids. |
| Mrs. Ivers: | Sorry that you ever left here. [to Sam] |
| | |
| --- | --- |
| Walter O'Neil: | And you. What have you done? |
| Walter O'Neil: | All life is a gamble. |
| Sam Masterson: | You'll do it for old times sake. |
| Martha Ivers: | A sure thing is never a gamble. |
| Martha Ivers: | There's only way you'll find out, release the girl. |
| Sam Masterson: | I haven't been on the rubberneck tour for years. [on being shown the house of Martha] |
| | |
| --- | --- |
| Sam Masterson: | Better get out of those wet clothes. |