The Strange Woman
(1946)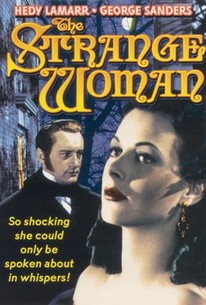 Movie Info
B-movie auteur Edgar G. Ulmer managed to direct a few A-pictures during his long career; he was personally selected by Hedy Lamarr to helm this big-budget thriller, a project she put together to change her image as a starlet whose sex appeal outweighed her acting abilities. Set in the early 19th century, The Strange Woman takes place in Bangor, Maine, where logging and lumber mills have made the town prosperous. Jenny Hager (Lamarr) has grown up in Bangor, not far from the watchful eye of wealthy Isaiah Poster (Gene Lockhart). The fact that Jenny is twenty years Isaiah's junior does not stem his amorous intentions, and when she's finally out of her teens, Jenny accepts his proposal of marriage. But beneath her sweet exterior, Jenny is a shrewd, conniving women, and while she makes a fine life for herself with Isaiah's money, she obviously doesn't care for him. When Isaiah's son Ephraim (Louis Hayward) visits from college, Jenny is immediately attracted to him, and she tells him that she'll marry him if he murders his father. But, unknown to Ephraim, Jenny is already scheming to win the affections of businessman John Evered (George Sanders), even though he's pledged to marry her best friend Meg (Hillary Brooke). Based on a novel by Ben Ames Williams, The Strange Woman was generally considered one of Hedy Lamarr's best performances, although her best-known performance would continue to be in Ecstasy (1933), largely because of her then-daring nude scenes.
Critic Reviews for The Strange Woman
Audience Reviews for The Strange Woman
½
Edgar G. Ulmer directs this unusual cautionary tale about what can happen should a beautiful girl grow up without a mother = she can become a shrewd and evil manipulator of men. Hedy Lemarr is great as a bad, bad " I don't want to be bad" woman in this dark tale, aided by a steady George Sanders as a "good" guy (for a change). Louis Hayward and Gene Lockhart are a surprise too, all given a chance to shine outside of the typical formulaic Hollywood roles usually assigned them, to stretch and play characters totally different than the cash cow cliches Hollywood endorsed. An interesting watch.
Kevin M. Williams
Super Reviewer
½
This Film I obtained from the Mill Creek Dark Crimes Collection. Directed by Edgar G Ulmer and at times I could see some Hitchcock influence in this movie, Women haven't changed much since 1946 as this one schemes to get everything she wants, including any man no matter if she's married or not. All about cheating and where it leads to. A film way ahead of its time in 1946. Video quality could have been better, you might be able to see this through internet archives. 3 1/2 stars 3-14-13
Bruce Bruce
Super Reviewer
If you can put aside the fact that the lead character has a viennese accent and her father an irish one when they are both natives of Bangor, Maine then there is much to enjoy here. Hedy, stunningly beautiful as always, plays a deeply conflicted woman well and though the film veers wildly from morality tale to lurid melodrama it is certainly more fun than a lot of more highly thought of films.
The Strange Woman Quotes
There are no approved quotes yet for this movie.