Stranger on the Third Floor
(1940)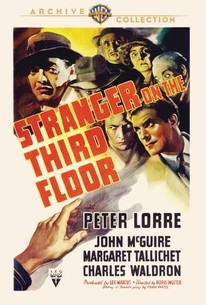 Stranger on the Third Floor Photos
Movie Info
This small, interesting, film which is generally considered the first film noir, The Stranger on the Third Floor, directed by Boris Ingster, is the story of the story of a reporter's search for a murderer. Ward, (John McGuire) was the star witness in a murder trial that convicted Briggs (Elisha Cook, Jr.), but he begins to doubt his own testimony. When another murder is committed Ward begins to focus his suspicions on a mysterious stranger (Peter Lorre), and attempts to find the true killer in time to save Briggs. This film, beautifully photographed by Nicholas Musuraca, shows the German influence on the classic film noir with its deep focus, high contract, stylized photography. The tone of the film, with is Baroque nightmare scenes establishes the technique which will be later used to great effect in the entire genre.
Critic Reviews for Stranger on the Third Floor
Audience Reviews for Stranger on the Third Floor
½
so it's a bit contrived and the lead actress is quite bad but this highly stylized film is considered the first noir with good reason: stunning art direction, especially the remarkable dream sequence, and great expressionist cinematography by nicolas musuraca. makes a powerful anti-death penalty statement as well
Stella Dallas
Super Reviewer
In "Stranger on the Third Floor," Michael Ward(John McGuire), a reporter, is the chief witness for the prosection in the murder trial of Joe Briggs(Elisha Cook Jr.), a drifter. During the trial, Michael's fiancee Jane(Margaret Tallichet) comes by to lend moral support. After Briggs is convicted of first degree murder and is likely to be sentenced to death, Michael starts to have second thoughts, especially after this strange dude(Peter Lorre) puts in an appearance. "Stranger on the Third Floor" is a dark little number with a very cool nightmare sequence. The movie is about how often appearances can be deceiving while taking a shot at the strict moral code of the time and this is an important lesson for Michael if he is to be a success at his chosen profession. However, the movie wraps a little too neatly and quickly, as more could have been done with the premise.
A good little B-movie about a journalist whose eyewitness testimony convicts a potentially innocent man of murder. The journalist himself then becomes a victim of circumstantial evidence after his despised neighbour is murdered. The plot is contrived and overuses both flashback and voice-over, but there's an excellent expressionist dream sequence in the middle. John McGuire makes a dull hero but Peter Lorre walks away with the movie with his 10 minute contribution.
Stranger on the Third Floor Quotes
There are no approved quotes yet for this movie.