Streamers
(1983)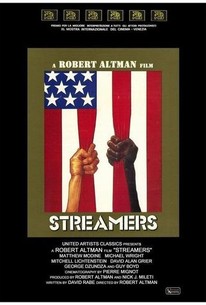 Movie Info
Based on the virulently antimilitary play by David Rabe, Streamers is set in a basic-training barracks. Matthew Modine is among the raw recruits who alternate between strutting around like bantam cocks to snivelling like frightened children. To test one another's manhood, the recruits indulge in violent physical and verbal game playing. Special attention is given those whose skin color or outlook on life is at odds with the "standards" of the group.
Critic Reviews for Streamers
Audience Reviews for Streamers
An intense and well written drama that deals with matters like racism, homophobia, self-acceptance and the dehumanizing side of war, relying on a revealing dialogue and with strong performances by its entire ensemble cast, especially Michael Wright and George Dzundza.
Carlos Magalhães
Super Reviewer
This was made for the theater, the transition to cinema doesn't work at all.
Marcus Woolcott
Super Reviewer
The string of films Robert Altman made during the 1980s ("Come Back to the Five and Dime, Jimmy Dean, Jimmy Dean," "Secret Honor," "Fool for Love," "Beyond Therapy") were all adaptations of stage plays. Altman attempted to blur the line between stage and screen by sticking almost exactly to the staging, sets, dialogue and structure of the plays. Of course, he brought his filmic sensibilities to each picture, always emphasizing the aspects Altman deemed most important. While none of the films are particularly successful, it's still a worthy experiment. As for "Streamers," it's a difficult film. Unfortunately, it's not difficult because of the subject matter (the Vietnam War, homosexuality, racism) but because the actors over act, the film feels stagey and claustrophobic, and there just ins't anything to truly hold your attention. While it's one of Altman's more complex (failed) experiments it's also a very uncomfortable 2 hours (and not in the good way "3 Women" or "Images" is).
Steven Carrier
Super Reviewer
Streamers Quotes
There are no approved quotes yet for this movie.