The Street Fighter
(1974)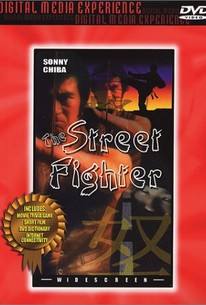 The Street Fighter Photos
Movie Info
While most martial arts films focus mainly on showing the moves, strikes and blows of the combatants, they don't show the logical consequences of these battles in any detail. The Streetfighter does, and it won an "X" rating for violence when it was released to the U.S. in 1975. This cult film and its three sequels are thought to be particular favorites of American director Quentin Tarantino. Sonny Chiba stars as Terry, a mercenary hired by the Yakuza and Mafia to kidnap a wealthy heiress. The mobs refuse to pay his large fee for the job, and he immediately changes sides. Much of the violent and gory action takes place aboard an oil tanker; though injured, Terry still takes out at least half of his many opponents.
Critic Reviews for The Street Fighter
All Critics (5) | Fresh (4) | Rotten (1) | DVD (3)
Many wild and woolly moments in this above-average action romp.
Listen my son, TRUST NO ONE! You can count on no one but YOURSELF. Improve your skills, son, harden your body, become the NUMBER ONE MAN! Do no ever let ANYONE beat you!
Audience Reviews for The Street Fighter
½
Gekitotsu! Satsujin Ken Sonny Chiba was pretty much one of the first actors to become a star utilizing his skills in martial arts (in Japan), slightly more chunky or well built than Bruce Lee with a rounder face and thick eyebrows. Released a few years after some of Lee's hit films Street Fighter is very similar in terms of looks, feel and costumes plus the way Chiba composes himself, his stances and poses during fights. The main difference being Chiba is playing a kind of mercenary for hire who isn't really all that nice instead of an outright hero, he's almost an antihero of sorts. At the time this film was regarded as highly graphic and violent but of course these days its more amusing, there is some in your face bloody moments but the blood is way too fake looking to concern. Violence is fun and almost comicbook-like with the odd idea having been seen more recently in other fight films and videogames (MK), the testicle ripping scene has to be the most memorable. Classic stuff and more gritty than Bruce Lee but with maybe less refined quality, Chiba comes across as more animalistic in battle, some lovely looking ladies in there too.
Phil Hubbs
Super Reviewer
½
A mercenary (presumably at one time in the past a street fighter) tries to protect an heiress while being hunted ny the yakuza and the man whose sister he sold into sex slavery. Sonny Chiba is a badass (and frankly more than a little bit of a dick) and the film gets some violent style points, but aside from its silly brutality it's nowhere near as special as its reputation suggests.
½
Superb action film that is superior to all recent efforts. The Street Fighter is everything you should love about the genre. In fact, it does so much right, it should be used as a template for any film wishing to achieve such levels of excitement and brutality. The first thing to grab my attention was the lead protagonist. He isn't exactly a nice guy. Far from it. He's a mercenary for hire, and not the lovable rogue like Han Solo. He is sadistic and cruel and self serving. However, Chiba manages to instill such charisma that I was drawn to the performance. As the film progressed, so did Chiba. His actions became more heroic, even if his methods could still make me cringe. The action scenes are those I long to return. This isn't some "exciting" frenetic exercise in editing. The action derives from the actors and the stunts. The camera is following what is going on, and heavy editing is not needed. There are some stylistic flourishes which add extra cool, but not so much as to detract from the emotions of the characters. Some parts are a little convoluted, but the balance between story, dialog, and action is beautifully thought out. It's all helped along by a very 70's and very sexy soundtrack.
Luke Baldock
Super Reviewer
The Street Fighter Quotes
There are no approved quotes yet for this movie.