Street Kings
(2008)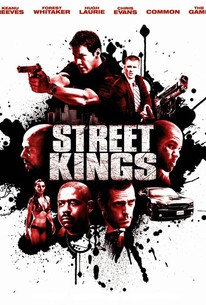 Movie Info
In the wake of the L.A. riots, an LAPD vice detective who always went above and beyond the call of duty to keep the streets safe receives a startling wake-up call that leaves him convinced he can no longer employ the tactics that made him so effective in his work. LAPD veteran Tom Ludlow (Keanu Reeves) has borne personal witness to the worst that the streets have to offer, and when his partner, Detective Terrance Washington (Terry Crews), is killed the violence strikes a bit too close to home. Now Ludlow is on a mission to bring his partner's killer to justice, though Captain Walker (Forest Whitaker) is concerned that the hotheaded detective is taking the case too personally. Now, as Captain Walker attempts to convince Ludlow to work within the confines of the law, Internal Affairs Captain Biggs (Hugh Laurie) begins following the vengeful lawman's every move. In order to accomplish his mission, Ludlow recruits fresh-faced Robbery Homicide Detective Diskant (Chris Evans) to trace Washington's killers through the winding streets of Los Angeles. Later, when Ludlow and Diskant come face to face with the remorseless cop killers, they must chose between upholding the law and seeking bitter vengeance.
News & Interviews for Street Kings
Critic Reviews for Street Kings
Audience Reviews for Street Kings
Very interesting L.A. cop thriller with Keanu Reeves in his best role and performance since the Matrix films. Not only does he need more than one facial expression here, his character is wonderfully ambiguous and unusual in his oevre. The film offers a smart and enthralling plot while enjoying its own immorality. The action is well timed, and it's just fun and exciting to see the noose tighten around the main character, while cheering for him nonetheless. There are several plot twists you don't see coming and you'll certainly stick around for the ending. The supporting cast is excellent too. Overall an intense, enthralling, violent and realistic look at the good, the bad and the immoral in the war against crime. Excellent.
Top of the line Crime Action Movie where Bad Cops are running the Streets. Can not say enough about this movie. Keanu Reeves and Forest Whitaker are at the top of there game in this one. A must see and Must add to the Collection. 5 Stars without any doubt.
Bruce Bruce
Super Reviewer
It wasn't that bad! I actually liked it!
Street Kings Quotes
There are no approved quotes yet for this movie.