Street Kings 2: Motor City
(2011)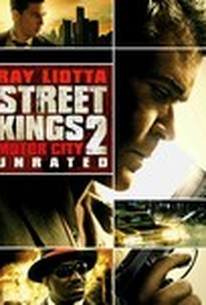 AUDIENCE SCORE
Critic Consensus: No consensus yet.
Street Kings 2: Motor City Photos
Movie Info
When a ruthless killer begins stalking his team, Detroit Narcotics Detective Marty Kingston (Ray Liotta) teams with a hot-shot homicide detective to root out the madman before he can strike again. Just as the pair begins to unearth some concrete evidence, however, they stumble into a massive conspiracy that threatens to tip the balance of power in favor of the corrupt, dimming the last rays of hope in a once-proud city. ~ Jason Buchanan, Rovi
Critic Reviews for Street Kings 2: Motor City
All Critics (3) | Fresh (2) | Rotten (1)
Filled with bad dialogue and line delivery meant to pay a mortgage rather than win any awards, this movie is really only something a fan of the genre could love.
Street Kings 2 treads common ground, but it does its best on a limited budget, providing some noteworthy thrills.
Though it eventually succumbs to the worst habits of the genre, most of the picture delivers the basics with a welcome spark...pleases more than it aggravates, which is a feat DTV product rarely accomplishes.
Audience Reviews for Street Kings 2: Motor City
I am not a great fan of Ray Liotta since Seinfield made fun of him in the B Movie :-)... joking... but I really never thought of him as a great actor. In this movie he did well enough that we can say that the film is successfully delivering intense and electrifying performance - just enough for a positive review! Liotta plays Detroit detective Marty Kingston, the leader of an undercover narcotics team, whose members are being systematically murdered one by one... Kingston joins forces with young (and cocky) homicide detective, but neither of them is prepared for the shocking corruption their investigation will uncover... The film is a sequel in name only, as it takes place in Detroit rather than Los Angeles and only Clifton Powell returns from the first film's cast... Enough said! Very formulaic for most of its running time and it doesn't offer anything that hasn't been done to death within the genre already. Not terrible and worth a look if you enjoyed the first one... if you didn't, skip it!
½
The best thing there is to say about Street Kings 2 is that it's mostly watchable, but never original and never all that interesting. As you would expect it has nothing to do with the original, save a similar plot line. As a big Ray Liotta fan I was disappointed, he wasn't given a script or surrounding cast that would bring the best out of him. The script in particular had clunky dialogue and numerous clichà (C) moments. Had it not taken itself so seriously, and been more gritty and less formulaic, it could've been something.
Jeffrey Meyers
Super Reviewer
Nothing more than a mediocre sequel. It has some good action sequences but the story lacks of stability and deepness unlike the first part the original. Ray Liotta still has some skills in him I'll give him that. Street Kings 2: Motor City moves the action to Michigan and explores the world of dirty cops on the violent streets of Detroit. Marty Kingston (Liotta) is an undercover narcotics detective who is shot and barely survives a drug bust gone wrong to save the life of his partner. When his partner is killed by a masked gunman four years later, Marty must team up with the hotheaded homicide detective Dan Sullivan (Hatosy) to investigate a string of brutal cop murders and hunt down the cop killer. The investigation that ensues is shrouded in deception and loaded with plot twists that question the line between the rules of law and justice.
Street Kings 2: Motor City Quotes
There are no approved quotes yet for this movie.