Street Smart
(1987)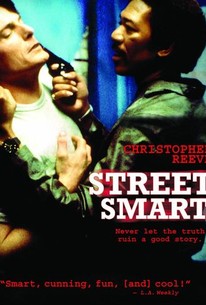 Movie Info
Jonathan Fisher (Christopher Reeve) is a newspaper reporter who becomes a celebrity when he writes a fictitious exposé on prostitution. The story of the high-living pimp is too close a resemblance to real-life flesh pedlar Fast Black (Morgan Freeman), and Jonathan is jailed when he refuses to turn his papers over to the local district attorney. In jail for suspicion of murder, Black tries to silence the reporter who created the sensational fabrication.
Critic Reviews for Street Smart
Audience Reviews for Street Smart
½
Morgan Freeman's performance IS the movie; the rest is a supporting cast trying to work themes a rewrite by James Toback would have fully realized ... and we would be locked into Reeve's dilemma more than just as our ticket to meeting Fast Black ... Points for Anna Horsford and Kathy Baker (who makes a foul shot as the white Whore With the Heart of Gold), and for the one-man theatre of Andre Gregory.
Adam Mahler
Super Reviewer
[font=Century Gothic]In "Street Smart," a magazine journalist, Jonathan Fisher(Christopher Reeve), has trouble researching an article about a pimp, even after interviewing Punchy(Kathy Baker), a prostitute, so he fabricates the article, instead. As a result of the article being a hit, he becomes the toast of the town. But the district attorney feels that the imagined pimp is Fast Black(Morgan Freeman) who is charged with murder, and would like to have a word with Fisher...[/font] [font=Century Gothic][/font] [font=Century Gothic][/font] [font=Century Gothic]"Street Smart" has a neat premise but the subpar execution leaves it being little more than a B-movie. The seedy Times Square of this film has long vanished and AIDS is never mentioned. But what is not dated is its take on journalistic ethics which remains especially relevant in this day and age.[/font] [font=Century Gothic][/font] [font=Century Gothic]Christopher Reeve makes for an especially weak lead. And it does take some getting used to Kathy Baker playing a prositute but she is very good. Morgan Freeman is excellent in his breakout role. While he never played this type of character again, he would also never again be so virile on screen.("Glory" and "Driving Miss Daisy" were soon on the horizon for him.)[/font]
Street Smart Quotes
There are no approved quotes yet for this movie.