Streets of Blood
(2009)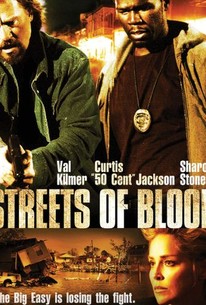 Movie Info
Six months after one of the worst natural disaster in U.S. history, crime and corruption sink to new levels of depravity as a pair of New Orleans cops work to clean up the streets. New Orleans has been ravaged by Hurricane Katrina, opening the floodgates for a sea of criminals seeking to assert their control over the city's seedy underworld. But when the stakes are this high, there's sure to be corruption within the ranks of the local police force, too. When a veteran detective with a violent history (Val Kilmer) is assigned a new partner with a dark secret (Curtis "50 Cent" Jackson), the perceptive police psychiatrist (Sharon Stone) suspects that the officers may have become morally compromised by the chaos that threatens to consume the city that's already synonymous with vice and decadence.
Critic Reviews for Streets of Blood
Audience Reviews for Streets of Blood
I saw this movie because I was interested in the plot and the cast. The "dirty cops" premise is lately becoming an exploitation, to mind come "Training day", "Dark blue", "Narc", and "Dirty". Unfortunately all these are far superior than this mess. The cinematography is nothing special, sometimes OK, sometimes awful. The story is quasi-complicated and fails to bring any tension whatsoever. The acting is not bad, but nothing special either. Val Kilmer, Sharon Stone and Barry Shabaka Hennley have little to work with. Biehn is pretty enjoyable. To me the biggest surprise was 50 cent - he wouldn't win any award for his acting here, but let's be honest, if I didn't knew he wasn't an actor but a gangsta-rapper I would have never guessed it. His character is supposed to be torn apart between right and wrong, but we don't really feel for him or never do we really see his inner struggle. This is however due to bad writing and is not Jackson's fault. He is not worse than any of the other actors in the movie, this could be due to the thin story, but still he does OK, no complaints here. Of course to all who know something about 50 cent, fans or haters, it is hilarious to hysterical to watch him run around dressed as a patrol cop. The dialogue is average. Now the action on the other hand, if not on par with films as "Heat", "Ronin", or even Michael Bay's flicks is actually quite well executed. The viewer is never confused who is shooting at whom and why, no guns firing 100000000 bullets without reloading either. The ending doesn't make much sense. The editing is good, no MTV-style quick cuts. Overall it is just a movie to kill some time with, but don't expect anything above average. If You are interested in the cast feel free to watch it. 3 Stars. 12-12-13
Bruce Bruce
Super Reviewer
Utter crap except for a few shocker moments set in gang/whore hangouts.
_kelly .King
Super Reviewer
½
Captured me and had me sit until it was OVER! Guessing consistently as of who was the SNITCH! I loved this! Bet you will never guess..who it is until the very end of this intense police vs. crime saga in Louisiana. Val Kilmer is in full form...Sharon Stone is back...even 50Cent had a good part in this! I was surely surprised! Try it!
Fascade Fiveoneeight
Super Reviewer
Streets of Blood Quotes
There are no approved quotes yet for this movie.