Nude per l'assassino (Strip Nude for Your Killer)
(1975)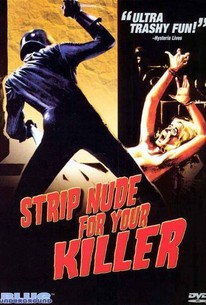 AUDIENCE SCORE
Critic Consensus: No consensus yet.
Nude per l'assassino (Strip Nude for Your Killer) Photos
Movie Info
Director Andrea Bianchi helmed this 1975 gruesome giallo sleaze-fest starring Edwige Fenech. There's a madman on the loose and no nubile fashion model is safe from his wrath. Nude Per L'assassino also stars Nino Castelnuovo and Femi Benussi and was released in the US as Strip Nude for Your Killer.
Critic Reviews for Nude per l'assassino (Strip Nude for Your Killer)
All Critics (2) | Fresh (1) | Rotten (1) | DVD (5)
It's hard to get behind the so-called "hero" when one is actively hoping he'll become the next victim.
Slasher analog to the James Bond prototype of the arrested male in a world of mayhem: using women and desexualized men as pieces in the hero's testosterone fantasy
Audience Reviews for Nude per l'assassino (Strip Nude for Your Killer)
I wasn't into this one. It was boring in the time between killings, and the killings themselves weren't much to look at. Kinda liked the story behind the killer, but you don't find out what it is until the end.
½
To put it simply, this is a giallo film that (at times) borders more on 70's soft core. I found the sexploitation aspects of the film (mostly) fun silly and over the top. While the giallo aspects were mediocre at best. Still though, a fun little romp for fans of the genre.
½
One thing I know about this film is that Burial Ground director Andrea Bianchi must have had a great time making it, as filming naked women and bloody murders looks like a lot of fun! As the lurid title suggests, Strip Nude for Your Killer is one of the more trashy examples of the Giallo tradition, and that has lead many to lambaste it as a sub-par effort; I, however, could not disagree more! The film is definitely over the top and silly, but that's the reason I watch Giallo, so criticising it for that is ridiculous. The film takes in pretty much every trash element of the style of film-making, from naked babes to a masked killer and the film is like a catalogue of less than tasteful actions and images. Strip Nude for Your Killer opens with a shot that leaves nothing to the imagination, and shows a woman having an abortion in a backstreet 'medical centre'. After she dies, her gynaecologist arranges for the corpse to be put in a bath full of water. He is killed soon after, and it doesn't take long for more dead bodies to begin piling up at the modelling agency where the unfortunate young girl worked... It is customary for the Giallo murderer to don black gloves for his crimes, but Bianchi goes all the way again with this idea and has his killer completely dressed in motorcycle leathers! The film benefits from a thick layer of sleaze that runs throughout and fans of lurid cinema are likely to be in heaven with Strip Nude for Your Killer. The fast paced plot is bolstered by some very graphic and nasty murders, as well as a plentiful helping of sex scenes; some of which involve Italy's finest Giallo actress, Edwige Fenech! Fenech has had her hair cut down for her role here, but she's still the sexy little minx that Giallo fans love her for being, and seeing her strip nude is always a treat! It's obvious that the plot itself wasn't important to the director as the film doesn't feature a lot of plot points and the unmasking of the murderer completely lacks any mystery. This film won't do anything for people that like their movies to be politically correct, as the women use their bodies more than their brains and the twisted sense of humour is liable to offend. None of that deterred me, however, as while I admit that this isn't the greatest Giallo...I really, really enjoyed watching it. Recommended!
Cassandra Maples
Super Reviewer
Nude per l'assassino (Strip Nude for Your Killer) Quotes
There are no approved quotes yet for this movie.