Stripes
(1981)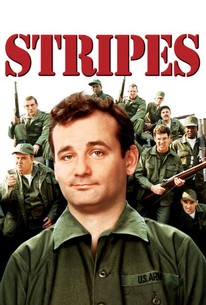 Movie Info
A charming, self-elected leader winds up commanding an outfit of misfits.
News & Interviews for Stripes
Critic Reviews for Stripes
Audience Reviews for Stripes
½
It's odd how a comedy from 1981 can seem more outdated than say one from 1961. Irreverent is the nicest way to put it. That's not to say Stripes isn't worth watching. It's occasionally hilarious. At the time, the film was the third on which Harold Ramis collaborated with Bill Murray, but the first in which the two actually appeared on camera together. The chemistry of their effortless friendship in real life, easily translates on screen. There's some terrific moments leading up to their arrival at Fort Arnold. The meet-and-greet scene in the Army barracks is a highlight for everyone involved. Ox (John Candy) and Psycho (Conrad Dunn) have amusing introductions. Legend has it that Bill Murray's "Chicks Dig Me" speech, including the bit about Lee Harvey and the cow, was improvised, Their basic training and on through their graduation feature some extremely funny bits. Unfortunately the dramatic momentum runs out of steam during the final act. Up until then, it's quite entertaining. Nostalgic viewers old enough to have originally seen it during the 80s should enjoy it even more. fastfilmreviews.com
Mark Hobin
Super Reviewer
½
Three years prior to Ghostbusters, Ivan Reitman made this half-forgotten little comedy gem. While not as perfectly timed as said classic in its humor, it's still an enjoyable watch with just as great of a cast. Especially as it features two of the busters: namely Bill Murray and Harold Ramis. Another name worth mentioning is the late great John Candy, who earns credit for some of the film's funniest moments. The plot reminds me of an American version of the Swedish comedy Repmånad, which came out two years before it in 1979. In comparison, I was just about equally entertained, but if I could only have one of them in my shelf, I would have to go with the one starring Murray. Because when all is said and done, there's nothing or at least very little in the world that can top that man's comedic genius.
Funny and entertaining, Ivan Reitman's picture have great comedians on the screen, in hilarious situations, but present a kind of boring ending for a terrific 80's comedy classic.
Lucas Martins
Super Reviewer
Stripes Quotes
| | |
| --- | --- |
| Soldier: | Any one of you homos putcha hands on me...and I kill ya... |
| | |
| --- | --- |
| John Winger: | We're Americans, with a capital "A", huh. You know what that mean? Do ya? That means that our forefathers were kicked out of ever decent county in the world. We are the wretched refuse. Weâ??re the underdog. We're mutts! |
| John Winger: | We're Americans, with a capital 'A', huh. You know what that mean? Do ya? That means that our forefathers were kicked out of ever decent county in the world. We are the wretched refuse. We're the underdog. We're mutts! |
| | |
| --- | --- |
| Russell Ziskey: | my father always told me never hit another person in anger unless you were absolutely sure you could get away with it. |
| Russell Ziskey: | My father always told me never hit another person in anger unless you were absolutely sure you could get away with it. |
| | |
| --- | --- |
| Sgt. Hulka: | son, there ain't no draft anymore. |
| Sgt. Hulka: | Son, there ain't no draft anymore. |