Strippers vs Werewolves
(2011)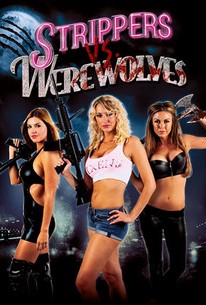 Movie Info
Director Jonathan Glendening follow up his full-moon frightener Night Wolf with yet another tale of lycanthropic terror - this time pitting a pack of vengeance seeking werewolves against a trio of sexy strippers. A member of a prominent wolf pack has been killed in a high-class strip club, prompting the leader of the pack to plan a bloodbath during the next full moon. The plan hits an unexpected hitch, however, when the owner of the strip club is revealed to be a veteran werewolf hunter, and one of the strippers gets romantically involved with a member of the pack.
Critic Reviews for Strippers vs Werewolves
Audience Reviews for Strippers vs Werewolves
Not a great film, but certainly satisfies the blood & tits quotient.
Fun horror/comedy. Set in a strip club, the plot revolves around a gang of werewolves getting revenge on a club owner that they had a run in with years ago. Despite not being particularly gory, Strippers vs Werewolves has some very funny moments and good characters. The cast, made up mostly of soap opera/TV actors do a decent enough job and theres even a brief appearance from Robert Englund, stealing the show as a jailed werewolf(think he's a werewolf anyway!) out for revenge. You can tell this is budget just going by the make-up effects but its been charmingly done and ovearll Strippers vs Werewolves is an entertaining way to spend an hour and a half.
½
LOVE the title and LOVE the idea (who wouldn't?) but I was devastated upon watching that the film is actually pretty lame really. A British low budget horror/gore/comedy which is probably suppose to be along the same kind of lines as 'American Werewolf' and 'Zombie Strippers' but alas it falls way short. I didn't expect an epic effects laden masterpiece of course but I did expect allot of raunchy half naked strippers and errrr more gore actually. The girls are cute but sparse which is odd considering the title and hardly any ass on show a tall! *weeps*. The makeup on the werewolves swings from not bad to pretty terrible really, again I was expecting greatness but its a bit shitty looking really. Its all hands on makeup and effects which looks better than cgi anyday but this film cries out for just a touch more skill. On a visual note they seem to have tried to make the film appear like the pages of a comicbook, split screens with a bit of text and in a slightly cartoony way, kinda works but the rest of the film needs to be good to make it fully work. A cult cast can't save the film either, Sarah Douglas of 'Ursa' fame in 'Superman II' has been in many silly low budget affairs, dunno why. A brief cameo by Martin Kemp, Lucy Pinder looking hot as a vampire bride but not really doing much, scary Brit hard man Alan Ford (again briefly), ex 'Bond' villain Steven Berkoff (again again briefly!) and finally none other than Robert Englund who like the others listed here also appears briefly and doesn't do anything much a tall. It does seem as though they got these cult names in just to raise the bar of the film on the grapevine, no one thought to give them something cool to do. Such a missed chance for a gloriously over the top tits, ass and gore flick, I can't believe how badly they blew it, criminal. Had this been in the hands of Landis or Jay Lee the director of 'Zombie Strippers, it could of been hella cool.
Phil Hubbs
Super Reviewer
Strippers vs Werewolves Quotes
There are no approved quotes yet for this movie.