Stuck
(2008)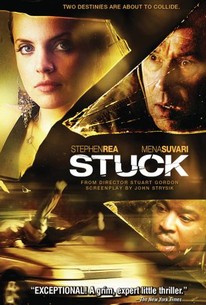 Movie Info
Re-Animator director Stuart Gordon takes the helm for this disturbing tale of a compassionate retirement-home caregiver whose life is turned upside down after a gruesome hit-and-run accident leaves a severely injured homeless man lodged helplessly in her shattered windshield. Despite her repeated promises to take her ailing victim to the hospital, the realization that the accident could destroy both her career and her future finds her uncharacteristically deciding to let the man die a slow death in her garage while conspiring with her boyfriend to dispose of the body. A fictionalized account of actual events, Stuck was co-scripted by director Gordon and frequent Tales from the Darkside contributor John Strysik. ~ Jason Buchanan, Rovi
News & Interviews for Stuck
Audience Reviews for Stuck
½
It truly amazes me that they couldn?t come up with a better name at least! Perhaps that?s why this film was free to watch on my rental package. The idea of Stephen Rea did sound promising and certain parts of the story did appear to look like it was going to be quite a good storyline. There were moments like the impact of the crash (not giving you a spoiler there, that?s what the film is about) that looked really good, but it did start to border on the ridiculous.
Lady D'arbanville
Super Reviewer
½
Oooh. This is a really gritty and interesting movie about realistic (sickeningly so) villainy. Nothing that happens in this movie is simple, and it would be a crime to describe this movie in terms of the barebones of the plot. Stephen Rea is the victim and Mena Suvari is the culprit, but circumstances complicate the situation. It's an accident that brings the two together, but the accident is made so much worse through Brandi's indecision, worry and inaction. It's really quite harrowing to watch the people in this movie digging thier own grave and sinking deeper in this more. The end though is really satisfying. It couldn't have ended any other way. The less I say, the better. If you were a fan of Hard Candy, you'll like this one. It's very similar in tone, but the events don't have any of the malice. It doesn't keep them from being anything but painful though.
Emily Armstrong
Super Reviewer
½
This movie was terribly difficult to watch. Not because it was a bad film, but because it felt so raw and real in a way that made the viewer very intentionally uncomfortable. The gore felt genuine as did the pain. The choices of our antisocial female lead paired with the odd conscience of her paramour brought tension and conflict effectively combined to the viewer. We watch the suffering and suffer in turn. This is a train wreck that is difficult to turn away from and I hope that you are satisfied with the return.
Stuck Quotes
There are no approved quotes yet for this movie.