The Stuff
(1985)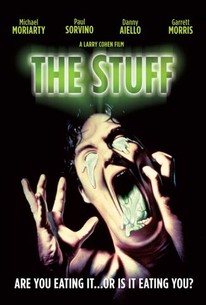 Movie Info
Former NBC-TV scriptwriter Larry Cohen directed this surreal, violent horror spoof that features a sweet-tasting white confection that looks like ice cream oozing up from the ground. A hamburger-chain operator, Colonel Spears (Paul Sorvino), teams up with an ice-cream maker, Chocolate Chip Charlie (Garrett Morris), to tap into the sticky blob's commercial potential by turning it into a best-selling confection. The trouble is, the stuff turns people who consume it into addicts and then into zombies, as it eats away at them from the inside. Messy and grotesque scenes dominate the satire, which stars Michael Moriarty as the investigator trying to discover the secret behind the violence. Moriarty and Sorvino would go on years later to team up on television's Law and Order. Cohen livens up this film with cameo appearances by several television commercial personalities, including Clara Peller, the "Where's the beef?" lady.
Critic Reviews for The Stuff
Audience Reviews for The Stuff
It is so appallingly awful that it doesn't even work as a commentary about the kind of crap people ingest without knowing what it is, and so it is only trashy, nonsensical, with a ridiculous sense of humor and terribly directed by someone who clearly has no idea what mise-en-scène is.
Carlos Magalhães
Super Reviewer
Very good B movie horror. The Stuff directed by Larry Cohen is an entertaining comedy horror film that has enough good elements to make this an entertaining ride. The plot is great, and there's plenty to enjoy about this film. Though flawed, this is a terrific forgotten gem from the 80's that is worth your time if you're looking for a horror flick that is bizarre but fun, then this is a must see. The premise for this film is pretty neat, a gooey substance grows from the Earth and is discovered that is delicious, and addictive. Unfortunately The Stuff controls the mind and eats the victims insides. Complimented with good, gory effects, The Stuff is a memorable B movie that will thrill horror fans looking for terrific forgotten gems like this one. I personally felt that The Stuff is one of the best unheard horror films of the 80's, cheesy premise for sure, but this is terrific entertainment. If you want an interesting and quite unique horror film with a social commentary; then look no further than The Stuff. Larry Cohen crafts a good film that despite its flaws is lots of fun to watch. Like I've stated earlier, this is one of the best unheard of horror comedies of the 80's. Definitely an underrated film that deserves to be seen by horror film fans. What makes this film appealing is the interesting premise and if you love B movie films from the 80's, and haven't seen this film, do so when you get the chance. The Stuff is a cheesy classic of 80's horror cinema, and it delivers .
½
A very fun B-Horror Noir, and one of Larry Cohen's best. It's not going to blow your mind, but it's very watchable.
Ken Stachnik
Super Reviewer
The Stuff Quotes
| | |
| --- | --- |
| Col. Spears: | Pay the drivers, issue a ten-percent tip, get a cash receipt. |
| State Trooper: | Yes, sir! |
| Col. Spears: | Proceed to the main lobby; we will reassemble! HUP! |
| Col. Spears: | Proceed to the main lobby, we will reassemble! HUP! |
| | |
| --- | --- |
| Col. Spears: | I will permit this colored man to speak. But speak one word of the Commie party, or one word in code, and I will blow his head off. |
| | |
| --- | --- |
| Chocolate Chip Charlie: | Don't you know who I am? I am Chocolate-Chip Charlie! My hands are registered with the mid-New Jersey police as lethal weapons, and I eat them guns for breakfast! |
| | |
| --- | --- |
| David "Moe" Rutherford: | There nobody here but you? |
| Gas Station Attendant: | Well, don't you wanna wash your hands or something? I put in a new towel! |