Subspecies
(1991)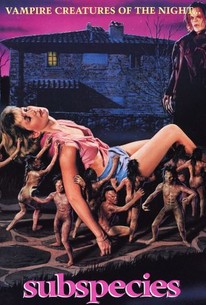 Movie Info
A disparate pair of vampiric brothers tussle for the possession of their father's powerful bloodstone in this violent horror outing that was shot on location in Transylvania.
Critic Reviews for Subspecies
Audience Reviews for Subspecies
Great friggen' horror film from my heroes at Full Moon Entertainment, who in my opinion, were doing some of the best horror movies of the late 80's and on through the 90's.
Tim Salmons
Super Reviewer
A different kind of vampire movie -- one good, one bad. Filmed in Transylvania.