The Suburbans
(1999)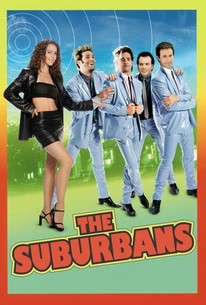 Movie Info
Answering the question of "Where have all the New Wavers gone?" is The Suburbans, a comedy from first-time director Donal Lardner Ward, who also stars and co-wrote the screenplay. In 1981, power pop band The Suburbans had it all -- big hair, skinny ties and a hit record. But they never followed up on their one chart success, and years later, most of the band's members have dropped out of the music business in favor of "real jobs." However, when one of the ex-Suburbans gets married, the four members are reunited at the reception and play their lone hit for old times sake. As fate would have it, one of the wedding guests is Cait (Jennifer Love Hewitt), a young A&R executive who loved the Suburbans as a kid and thinks they could have another shot at the big time. But does pushing-40 bandleader Danny (Ward) really want to put a stake in the heart of his marriage to Grace (Amy Brenneman) for another moment in the spotlight? The Suburbans features a period-appropraite cameo from A Flock Of Seagulls and supporting performances from Ben Stiller, Jerry Stiller, Will Ferrell and Robert Loggia.
Critic Reviews for The Suburbans
Audience Reviews for The Suburbans
Leigh Ryan
Super Reviewer
The Suburbans Quotes
There are no approved quotes yet for this movie.