Suburbia
(1997)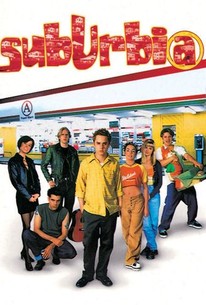 TOMATOMETER
AUDIENCE SCORE
Critic Consensus: Suburbia succeeds in its blistering, ensemble-driven exploration of middle America, though it never quite reconciles the disparate stylings of director Richard Linklater and writer Eric Bogosian.
Movie Info
A gang of suburban slackers spend an evening hanging out at a local convenience store in hopes of seeing an old high-school buddy whose career as a rock singer is about to hit the big time. As they wait, memorable portraits of their young lives emerge. Directed by Richard Linklater and featuring a script by Eric Bogosian, Suburbia is a strongly character-driven comedy that offers sharp insight into the joys, sorrows and struggles of being 20 in the mid 1990s.
Critic Reviews for Suburbia
Audience Reviews for Suburbia
½
"Idealism is guilty middle-class bullshit" Having already delivered Slacker and Dazed and Confused beforehand, Richard Linklater's third film, SubUrbia, somewhat confirmed him as a voice for the disillusioned youth and their struggling transition into adulthood. This is a common theme among his films and has lasted from his debut in 1991 to his most recent 2014 film Boyhood. It's seems to be his niche and one that will surely continue in his future endeavours. Jeff (Giovanni Ribisi), Tim (Nicky Katt) and Buff (Steve Zahn) are three aimless friends that do nothing more than hang around their all-night convenience store, drinking, eating pizza and bitching about life in general. On one particular evening, they await the arrival of old high-school friend Pony (Joyce Bartok) who is now a successful musician. As the night progresses, though, tension, jealousy and resentment grow. Taking a break from writing duties and focusing on the work of playwright (and sometime actor) Eric Bogosian, Linkater finds a project that is not unlike his own material. However, there's a slightly angrier and darker piece of work here that's a little out of Linklater's usual comfort zone. Like a lot of his films there's very little in terms of plot as it focuses on a bunch of friends hanging out and discussing their lives, the choices they've made and where their futures might lie. Again, like many Linklater films, it doesn't sound too appealing on the surface but he has a real knack for capturing natural dialogue and performances and that's where the film really finds it's feet. The always reliable Giovanni Ribisi waxes philosophical in true Linklater fashion while we have Steve Zahn lightening the mood in a film that's predominantly concerned with pessimistic conversation. Linklater, once again, has a good eye and feel for small town, Texan mentality and he films with a colourful vibrancy whereby many scenes and exchanges of dialogue could have been cut and pasted directly into Dazed and Confused and they'd appear seamless. The sticking point of the whole affair, however, is the running time; it's just shy of the two hour mark and you do get the feeling that characters overstay their welcome, particularly as the tone of the material gets darker and more depressing. That being said, this is still another enjoyable outing from Linklater. A sharp and observant character piece that fits comfortably into Linklater cannon of films and once again showcases his ability to capture the disenchanted, cynical youth on the periphery of society. It's one that fans of his will not be disappointed in. Mark Walker
Mark Walker
Super Reviewer
½
"Let's take a ride, and run with the dogs tonight, in Sub[u]U[/u]rbia!". Yes, Pet Shop Boys, it's "Sub[u]U[/u]rbia", not "Sub[u]u[/u]rbia"; there's enough of a difference for Wikipedia to not bother specifying the year differences in the article titles. Shoot, you're more likely to think that this is "Clerks 2" or something, because it's mostly about a bunch of bums hanging out around a convenience store. Speaking of years differences to distinguish titles, they ended up having a "Clerks 2", so this is more like "Dazed and Confused 2", or, if you want to go by the full title, "Dazed and Confused 2 Hours Later". Yeah, I can't help but notice that after this film, Richard Linklater tried to put a little more dynamicity into his narratives, or rather, put in some narratives to begin with, probably because he realized that two hours of aimless chatter might be a little too much, even though it's certainly better than an hour-and-a-half of "It's Impossible to Learn to Plow by Reading Books". Yeah, Dick, I understand that it was your first film, and you made perfectly decent films after... "Slacker" (Come to think of it, you didn't really start out at that well for me), but I'm not letting that go. This film might help, because it is indeed quite decent, but you know how sequels can be, so, as you can imagine, "Dazed and Confused 2 Hours Later" here goes held back, and isn't even all that refreshing as a sequel. Yeah, yeah, I've done all my joking about how this is sort of like "Dazed and Confused 2", or "Clerks 2", and what have you, but the fact of the matter is that even a film of this offbeat of a nature has been done time and again, largely by Richard Linklater, hitting more than a few tropes as a very 1990s, dialogue-driven dramedy, complete with flawed characters who, well, might be a little too flawed. Written and portrayed well enough, the characters are reasonably compelling, but whether it be young intellectual pretense, or simply, of all things, immaturity, there are a number of defining characterization traits that get to be a little obnoxious after a while, partly because you have only so much time to get used to certain characters before focus switches a little too swiftly for consistency's comfort. As a layered ensemble study, the film gets to be uneven in focus, as surely as it gets to be uneven in its realism as a brutally honest character portrait, meeting many a grounded dramatic layer with a pinch of melodrama that, while not recurrent, is hard to ignore, as it breaks believability, and has plenty of time to hit those beats. I joked about it earlier, but quite frankly, while this film has more meat than one might fear it would when looking at some of Linklater's other early, super-minimalist efforts, at two hours, its runtime is simply way too long, being well-handled enough for you to be adequately entertained through all the slow spells, but nonetheless repetitious in its being driven by ramblings, and not much outside of that. The film's story concept is plenty compelling, make no mistake, enough so for the final product to rise to the brink of rewarding on the back of dramatic inspiration, which was always to find trouble getting the dramedy much further than that, - seeing as how the narrative, as a talkative character story that is generally too grounded to be all that interestingly distinguished - and doesn't exactly make the natural shortcomings easier to get past with the aforementioned consequential shortcomings. I suppose it's the natural shortcomings that most subdue the engagement value of this affair of limited consequence, but that's something that could have been said about some of Linklater's other, more compelling minimalist dramedies, which don't see quite as many of the problems that just barely, but surely hold the final product back as barely consequential. The film could have been a little more, and yet, at the same time, it also could have been so much less, and it would have been if it didn't have some inspiration to the interpretation of a worthy, if, as I said, subdued story concept. An ostensibly faithful adaptation of a dialogue play, this film's story concept is minimalist and talkative, and not even all that unique, although it still has a certain meat to it, with intrigue to its sheer humanity as a drama, sold by subtle inspiration off of the screen and, of course, on the screen. A classic Richard Linklater type of cast that mixes recognizable names, then-up-and-coming names and unknowns, this film's collection of talent delivers on individually commendable performances, with Steve Zahn stealing the comedy side of the show with his over-the-top commitment to an eccentric roles, while dramatic depth proves to be rich within such performances as those by Jayce Bartok, Dina Spybey, Amie Carey, a particularly devastating Nicky Katt, and leading man Giovanni Ribisi, whose trademark quiet range that encompasses anything from a sense of awkwardness to a sense of aggression as a repressed ambitious. Just about everyone delivers as best he or she can with individual charisma and dramatic layering, and that, combined with dynamite chemistry, drives a lot of the depth of this ensemble dramedy, although, in all fairness, the performers have pretty solid roles to work with. Flawed to the point of being distancing at times, and not even consistently as grounded as they're supposed to be, the characters remain compellingly well-drawn, staying effective as reflections on themes of personal struggles on the road to fulfilling ambition, but still being distinguished enough to be memorable by their own rights. Characterization is pretty solid, but the strengths in screenwriter Eric Bogosian's adaptation of his own play don't end there, because as surely as it thrives on its characters, the film thrives on razor-sharp dialogue whose humor and audacious extensiveness holds a fair deal of your intrigue throughout the course of this overly, but entertainingly talkative dramedy. Of course, it's Linklater's direction that really sells things, even if it's only to a certain extent, for although Linklater cannot overcome the natural shortcomings and other missteps in Bogosian's writing, his plays on the scripted flare keeps entertainment value surprisingly consistent, no matter how much the film drags, and when more thoughtful slow spots come into play, dramatic weight bites, flowed into organically enough to give the final product a sense of dynamicity that beefs up a minimalist narrative which gradually gets a little meatier. The film gets a little more heavy as it goes along, until you're presented with thoroughly compelling latter acts that reflect what could have been, and while those glimpses aren't enough to get the film to a rewarding point on the whole, on top of further reflecting Linklater's potential as a filmmaker, the final product endears enough to entertain and often compel, even though it could have gone further. Overall, a lack of originality and an inconsistency in character engagement value, focus and buyable drama, all behind the dragging telling of a narrative which is too minimalist for its own good drive the final product just short of rewarding, yet the value of a humanly worthy story concept is ultimately done enough justice by solid acting, memorable characterization, clever dialogue and thoughtfully well-layered direction that gradually grows more endearing to make Richard Linklater's "SubUrbia" a generally improvable, but consistently entertaining and often compelling portrait on flaws and potential within young adults. 2.75/5 - Decent
Cameron Johnson
Super Reviewer
Jeff: It doesn't matter what I do as long as I don't care about the results. And that's why now, I'm getting naked.  I really didn't think I was going to like this movie after the first twenty minutes. All that was going on was the characters saying "Fuck you" a lot and flipping everybody off, while they walked away backwards. But from the movie turned into a good little hang out/what are we going to do with are lives, "Oh nothing, that sound good" film. It's sporadically funny and takes some turns towards the dark and tragic.  I do like the honesty of the film. The characters sit around and the ones that have given up drink heavily and the ones that have aspirations of bettering their lives talk about stuff they truly don't understand. When it comes to these hang out movies, this isn't one of the better ones. Linklater did it better with Dazed and Confused and there are others like Barry Levinson's Diner which far exceed SubUrbia. That isn't to say that this is a bad movie, because it happens to be an intelligently written(Eric Bogosian) and directed film.  The movie runs a little long for the content and it doesn't seem like they really knew how to end it. I wasn't expecting so much to occur during the last act because nothing occurred during the first two. This is a plotless movie, that threw a lot of heavy issues into the mix, especially down the home stretch. It sort of started to feel like a mess and it started to feel  a little longwinded, but overall it made its points while being funny and entertaining.  Suburbia is worth a look, especially if you like movies that occur in a day or a night. Don't watch it if you don't like movies that really don't have an active plot. All this really is, is conversations between characters. Think Mallrats, but a lot heavier.
Melvin White
Super Reviewer