Sucker Punch
(2011)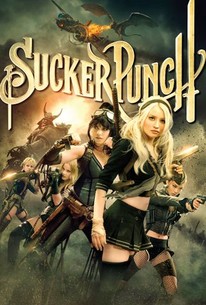 TOMATOMETER
AUDIENCE SCORE
Critic Consensus: It's technically impressive and loaded with eye-catching images, but without characters or a plot to support them, all of Sucker Punch's visual thrills are for naught.
Movie Info
"Sucker Punch" is an epic action fantasy that takes us into the vivid imagination of a young girl whose dream world provides the ultimate escape from her darker reality. Unrestrained by the boundaries of time and place, she is free to go where her mind takes her, and her incredible adventures blur the lines between what's real and what is imaginary. She has been locked away against her will, but Babydoll (Emily Browning) has not lost her will to survive. Determined to fight for her freedom, she urges four other young girls-the reluctant Sweet Pea (Abbie Cornish), the outspoken Rocket (Jena Malone), the street-smart Blondie (Vanessa Hudgens) and the fiercely loyal Amber (Jamie Chung)-to band together and try to escape a terrible fate at the hands of their captors, Blue (Oscar Isaac) and Madam Gorski (Carla Gugino), before the mysterious High Roller (Jon Hamm) comes for Babydoll. Led by Babydoll, the girls engage in fantastical warfare against everything from samurais to serpents, with a virtual arsenal at their disposal. Together, they must decide what they are willing to sacrifice in order to stay alive. But with the help of a Wise Man (Scott Glenn), their unbelievable journey-if they succeed-will set them free.. -- (C) Warner Bros
News & Interviews for Sucker Punch
Critic Reviews for Sucker Punch
Audience Reviews for Sucker Punch
omg i kin jus lookit dis and tell its kickass, right? like smart, sexy, mysterious girls with a past who also know how to knee a pervert in the crotch and then turn to the camera and be like, "i told him, dont fuk wit dis bitch before she gets her egg mcmuffin!" hahahaha lolz jk but not really cuz itzz funny az fuk lol. bitch izz bad yo. i wuddint be fuxxin wit hurrr...
Coxxie Mild Sauce
Super Reviewer
Daniel J DeMersseman
Super Reviewer
The hyperstylized visuals are spectacular and a total delight, but they are not enough to make up for an empty plot that is almost unengaging, and the idea of mixing wuxia, war movies, Nazi zombies and robots is indeed curious but not sufficient to be worth our attention.
Carlos Magalhães
Super Reviewer
Sucker Punch Quotes
| | |
| --- | --- |
| Wise Man: | The fifth thing is a mystery. It is the reason; it is the goal. It will be a deep sacrifice and a perfect victory. Only you can find it. And if you do, it will set you free. |
| | |
| --- | --- |
| Babydoll: | This was never my story. It's yours. Now, don't screw it up, okay? |
| | |
| --- | --- |
| Babydoll: | You'll never have me... EVER. *Kicks Blue down* |
| Babydoll: | You'll never have me... EVER. [kicks Blue down] |
| | |
| --- | --- |
| Rocket: | Sweet Pea: Everyone has an Angel. A Guardian who watches over us. We can't know what form they'll take. One day, old man. Next day, little girl. But don't let appearances fool you, they can be as fierce as any dragon. Yet they're not here to fight our battles, but to whisper from our heart. Reminding that it's us. Its everyone of us who holds power over the world we create. |
| Sweet Pea: | Everyone has an Angel. A Guardian who watches over us. We can't know what form they'll take. One day, old man. Next day, little girl. But don't let appearances fool you, they can be as fierce as any dragon. Yet they're not here to fight our battles, but to whisper from our heart. Reminding that it's us. Its everyone of us who holds power over the world we create. |