Sudden Fear
(1952)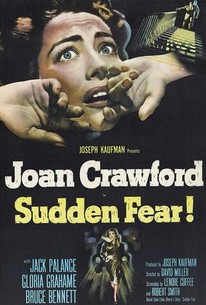 Movie Info
Joan Crawford portrays a successful, independently wealthy playwright who fires struggling actor Jack Palance from her latest production. Eventually she and Palance kiss and kiss and kiss and make up, which leads to marriage. One day, Crawford turns on her dictaphone, only to hear the voice of Palance plotting her murder with tartish Gloria Grahame. But Crawford isn't a celebrated playwright for nothing; she takes to her typewriter and concocts a scenario that will hoist Palance on his own petard. There's a notably suspenseful climax, but Sudden Fear is so strident at times that it looks like a Carol Burnett Show parody.
Critic Reviews for Sudden Fear
Audience Reviews for Sudden Fear
crazy crawford vehicle that verges on camp at times but hang in there for the explosive climax!! also featuring sleazy jack palance and gloria grahame. good stuff
Stella Dallas
Super Reviewer
"Sudden Fear" is not much more than an ordinary thriller, but it is directed and acted so perfectly that it is uniquely gripping and satisfying. Its stars, Joan Crawford and an alarmingly young and studly Jack Palance, both won Oscar nominations for their work in the film. Not many thrillers can say that. Director David Miller may have had a lackluster career overall, but he was in top form here. Crawford plays a highly successful playwright, Palance a struggling actor trying to get a part in one of her plays. The two eventually fall in love, marry, and move to her native San Francisco, despite a fairly significant age difference. The movie plays like a delightful love story until a shocking turning point morphs it suddenly into a film noir. I won't reveal the details and ruin the surprise. I'll just say that you'll be on the edge of your seat every minute, and the emotional shock that Crawford's character undergoes you will feel deeply.
William Dunmyer
Super Reviewer
½
poetic justice is a common term in ancient greek drama as ""virtue is ultimately rewarded or vice punished, often in modern literature by an ironic twist of fate intimately related to the character's own conduct."" (wikipedia). vintage noir pictures, under he surveillance of morality code, are also required to have the villain punished in the end despite its skeptism toward the decarmation of the good and evil within human nature. when it comes to joan crawford's "sudden fear", POETIC IRONY would be the term i consider apt for its spirit. a broadway female playwright (joan crawford) fires an actor on stage, who is casted as the lead in her newly written play because she considers him somehow insincere, and too slick for the romantic hero of his play. ironically, later she falls head over heels in love with the actor she fires when she bumps into him on the train. thus he becomes the love of her life, her lawful husband. the man even swoons her over his feet by lyrically reciting the quotes of her play.BUT unexpectedly she discovers that he schemes to murder her to get her inheritance because her recording phonograph accidentally tracks down his private conversation with another woman, and the heart-aching truth is that he never loves her for one second! (it's like, if you could discern immediately that this man is dubiously sleek for the drama-play but in real life, you're gullible enough to be tricked by the same routine without ruminative second thought!) but, dismayed as she is, she carelessly ruins the only evidence to prove his murder-scheme against her. therefore, she has to do some precautionary acts for survival and also to entrap this pair of cuckolds into the righteous course of poetic justice...as for what she will do, that's the most fascinating part of the movie as crawford performs the ultimate fury conflicted by her self-contradictive conscience. "sudden fear" also has some perverse forms of sexuality rendered thru sadomascohistic inneundos between the interactions of jack palance and gloria grahame who are the adulterers, such as "i love you so much that i could break your bones" (an eerie expression of love, isn't it?)..in one scene, man inflicts some physical violence to the woman by pushing her off to the coach meanwhile threatening her that he would disfigure her face if she reveals his dark secret, but oddly the woman responds cheerfully "thank you, thanks a lot...for still loving me" while igniting a cigarette. (code of sex in the old noir, whenever you see man and woman light off cigarette for each other, that means they're intermingled in sex since noir thrived after the 1934 morality code. sex had to be suggested thru various gimmicks) one last good picture of joan crawfood in her final comeback in 1950s when film noir was about to be obselete due to the bloody maccarthyism. crawford is the only actress hard-boiled enough to pull off the position of sap in noir piece. (maybe bette davis could as well, but miss davis' movies turn out to be melodrama much more often than noir)...great pop-freudian-ism illustrated by expressionistic cinematographies, such as the sequence of crawford having nightmares about her husband trying various brutal ways to kill her off....isn't it great? when the world is artfully presented in the dichotomy of black and white, when the talented elites still give a shit to psychoanalysis and glorifies it thru various forms of avant-garde craftsmanship like noir for one example. that was before noir became a nostalgic product for blank parody and immitations...
Veronique Kwak
Super Reviewer