Sudden Impact
(1983)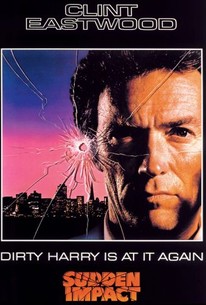 TOMATOMETER
AUDIENCE SCORE
Critic Consensus: Sudden Impact delivers all the firepower -- and the most enduring catchphrase -- fans associate with the Dirty Harry franchise, but it's far from the best film in the series.
Movie Info
Dirty Harry (Clint Eastwood) returns in this fast-paced, violent and surprisingly witty actioner. The story centers on the victim of a particularly brutal gang rape that left one woman nearly catatonic and the other insane with grief. It is the latter (Sondra Locke) who has been slowly but surely murdering the culprits in gruesomely inventive way and it is Harry who is assigned to find her. When he catches up with her, he is surprised to find that they are kindred spirits.
Critic Reviews for Sudden Impact
Audience Reviews for Sudden Impact
A riveting, dark and gritty action-packed edge of your seat thriller. It packs real serious punch and showcases Dirty Harry at his toughest and most bad-ass. Clint Eastwood is leaner and tougher than ever as Dirty Harry, giving a terrific performance and this time in the directors chair showing off his craft and style. Sondra Locke gives an intense and effective performance. It`s definitely the darkest film in the series and showing that its not afraid to take risk. It`s packed with dark humor, great performances and sizzling action sequences.
For the fourth entry in the long running series about hard-nosed inspector "Dirty" Harry Callahan, Clint Eastwood decided to take the reins this time around. And not only that, but this is also the film that gave the "Go ahead. Make my day" line, which is one of the best ever. That being said, I'm rather conflicted about this one. It is competently made, but there's really not a whole lot of in depth subtext, and there's plenty of missed opportunities to capitalize more on the fact that it's no longer the 70s, and how Harry is a relic of a bygone era. Don't get me wrong, this is addressed, but it's just not done in all that compelling or interesting way. There's less action, and more focus on psychology, which is okay, but things are more often than not a drag, and quite frankly, a bore as well. That, and some of the humor was far more groan worthy than was probably intended. Okay, so the plot: after outcries of police brutality, HArry is sent on an out of town assignment until things cool off. However, things always seem to heat up wherever Harry goes. His investigation revolves around a rape victim who, years after the event, is getting cold blooded revenge. Not only that, but Harry also has vengeful mobsters on his tale after an interrogation/intimidation of his caused a senior mafioso to keel over from a heart attack. Given this set up, you'd think this would be more slam bang, and not so contemplative. In a lot of ways, this film is like a great deal of Clint's (especially later) directorial work, namely in terms of style, themes, and execution, and, while this is a noble effort, I was let down. Like I said though, this has the great quote, and the climax is good, but everything else is a mixed bag.
Chris Weber
Super Reviewer
½
This movie did deliver the epic catchphrase, "Go ahead, make my day." Aside from that, Eastwood's directorial debut of the series turned out to be a disappointing experience.
Sudden Impact Quotes
| | |
| --- | --- |
| Harry Callahan: | Go ahead, make my day. |
| | |
| --- | --- |
| Harry Callahan: | Go ahead, make my day! |
| | |
| --- | --- |
| Harry Callahan: | Go ahead, make my day. |
| | |
| --- | --- |
| Harry Callahan: | "Go ahead, make my day!" |
| Harry Callahan: | Go ahead, make my day! |