Sugar Mountain
(2016)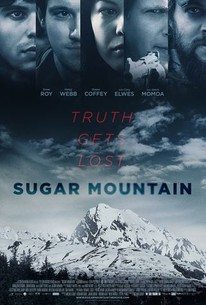 Movie Info
Deep in debt to a local thug (Jason Momoa), Miles persuades his girlfriend Lauren and brother Liam to help fake a disappearance in the Alaskan wilderness. While the town works together to find Miles, the local sheriff (Cary Elwes) begins to suspect foul play. As he closes in on the truth, Liam struggles to conceal the hoax, and in the process exposes a secret that rocks him and Lauren to the core. Now the two are struggling to stay one step ahead of a sadistic thug and the tenacious cops before Miles is gone for good.
Critic Reviews for Sugar Mountain
Audience Reviews for Sugar Mountain
Despite some weaknesses in the script, miss opportunities, and Elwes' seeming incapability to deliver any lines without smugness, "Sugar Mountain" is actually a pretty good and entertaining film for a low budget project. The scenery was beautiful and Coffey was a stronger performer that I expected. Deception and plot twists come frequently enough to keep you guessing and on your toes. I was entertained enough to recommend the film, its shortcomings notwithstanding.
Christian C
Super Reviewer
Sugar Mountain Quotes
There are no approved quotes yet for this movie.