Summer and Smoke
(1961)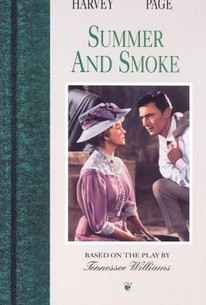 AUDIENCE SCORE
Critic Consensus: No consensus yet.
Movie Info
Alma (Geraldine Page) is the sexually repressed, neurotic minister's daughter in a small Mississippi town. She loves her neighbor Dr. John Buchanan (Laurence Harvey), whose father is also a physician (John MacIntire). Father and son have different approaches in medical philosophy. John, who considers Alma to be only a lifelong friend, has eyes for the dance hall girl Rosa (Rita Moreno). Alma takes John to the dance hall in an effort to get closer, but she runs off when he makes a pass at her. John becomes engaged to Rosa, throwing a party at home when his father is out of town. A jealous Alma calls the elder Dr. Buchanan and informs him of the wild party commencing in his absence. Tragedy ensues when the two future fathers-in-law quarrel a the scene of the revelry. Alma takes comfort in the arms of a traveling salesman she meets in the park. In her efforts to find love, she is oblivious to unhappiness left in the wake of her disturbing behavior. This film of the Tennessee William's play comes nine years after the Broadway stage production. Una Merkel was nominated for best supporting actress for her role as John Buchanan's mother. Page was nominated for best actress, and Elmer Bernstein's musical score was also nominated.
Critic Reviews for Summer and Smoke
All Critics (3) | Fresh (2) | Rotten (1) | DVD (1)
The English director Peter Glenville and the American actress Geraldine Page ought to make more movies together instead of concentrating on the stage.
Even Geraldine Page can't do more than caricature a part that is already caricature. Laurence Harvey is possibly slightly more inadequate than usual.
This screen version of Tennessee Williams's noted play is poorly directed (it' still theater), but it's well acted by Geraldine Page
Audience Reviews for Summer and Smoke
½
Most Williams conversions to the screen have been fabulous but this one is a let down. There are elements to the directing I think that don't allow for the story to flow as effectively as it could.
John Ballantine
Super Reviewer
Moody, stage bound drama with some typical Williams touches has a heavy gothic atmosphere and good performances to recommend it. Geraldine Page conveys the Alma"s yearnings with her customary skill and even the usually stiff Harvey is more accomplished than usual. Also standing out in a small role is Una Merkel as Alma's mother giving an affecting performance in just a few scenes.
½
A Southern belle longs for a doctor who pays more attention to desires of the flesh than Southern social mores. It's rare for me to find a superficial quality about an actor that detracts from her performance enough for me to mention it, but Geraldine Page is an unfortunate exception: I hate her face. When she smiles, her cheeks pucker into two protruding circles that dominate her expression; it's like she's got two jawbreakers stuck in her cheeks. And her expression is always coy - coyly distressed, coyly happy, coyly longing. Yes, it's superficial, but the structure of her face actually detracted from her performance. The film's central conflict is a "will he or won't he grow up" dramatic question, and such a plot obviously reinforces traditional values, or in this case, traditional Southern mores. This plot by itself isn't too strong, but with Tennessee Williams's language, it becomes more compelling. Long monologues about passion and fire make fucking around seem like a spiritual communion. This isn't Williams's best writing - some of the metaphors are overwrought and the Southern belle act has gotten cliche - but in the hands of anyone else, it would have been a bland, cliche story about a man being saved by the love of a good woman with a predictable twist. Overall, though it's one of his lesser works, fans of Tennessee Williams might enjoy this film.
Jim Hunter
Super Reviewer
Summer and Smoke Quotes
There are no approved quotes yet for this movie.