Summer Holiday
(1948)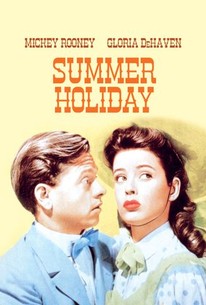 Movie Info
Summer Holiday is a musical remake of the 1935 MGM comedy-drama Ah, Wilderness!, which in turn was adapted from the play by Eugene O'Neill. Mickey Rooney (who played a supporting role in the 1935 film) stars as O'Neill's alter ego Richard Miller, a young man coming of age in early 20th century New England. Anxious to live life to the fullest, Richard ignores the cautionary admonitions of his father Nat (Walter Huston), preferring instead to follow the example of Uncle Sid (Frank Morgan), the family's "black sheep". In his ongoing quest for wine, women and song (he gets precious little of the first two commodities, but plenty of the third!) Richard ignores the fact that the true love of his life, sweet young Muriel (Gloria De Haven), has been under his nose all along. Director Rouben Mamoulien's obsession with cinematic innovations is largely absent here; what emerges is a staid, conventional MGM musical, albeit gorgeously photographed in Technicolor by Charles Schoenbaum. Filmed in 1946 but not released until 1948, Summer Holiday would not be the last musicalized version of Ah, Wilderness!; that honor went to the 1959 Broadway musical Take Me Along, which starred Jackie Gleason as Uncle Sid.
Critic Reviews for Summer Holiday
Audience Reviews for Summer Holiday
½
Musicalization of Ah! Wilderness is okay with Rooney one of the oldest high school graduates you'll ever see. It's the supporting cast of Huston, Morgan, Selena Royale and Marilyn Maxwell that make the picture worth seeing. Agnes Moorehead, who looks great in the period costumes, is wasted as Cousin Lily which has been reduced from the original.
Summer Holiday Quotes
There are no approved quotes yet for this movie.