L'Heure d'été (Summer Hours)
(2009)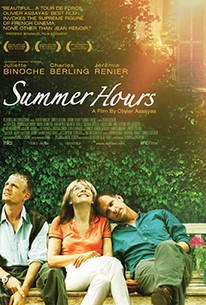 L'Heure d'été (Summer Hours) Photos
Movie Info
Three siblings must come to terms with their mother's mortality as they decide what to do with her valuable belongings in this warm family drama from filmmaker Olivier Assayas. Hélène Berthier (Edith Scob) is about to turn 75, and her children are gathering at her home in the country for a party. Adrienne (Juliette Binoche) has flown in from New York City, where she lives with her boyfriend, James (Kyle Eastwood). Jérémie (Jérémie Renier) has taken a rare break from his globe-trotting business interests to stop by with his wife (Valérie Bonneton). And Frédéric (Charles Berling), the only one who lives close enough to visit regularly, has also come with his spouse, Lisa (Dominique Reymond). Hélène has inherited a large and valuable collection of art from her brother, and with her health beginning to fail, she approaches Frédéric and asks that he, Jérémie, and Adrienne come up with a plan to deal with the pieces after her death. Frédéric wants to keep the collection together and see if they can persuade a gallery to purchase and present them as a set. Jérémie and Adrienne have other ideas, but as he's pondering a business opportunity in China and she's planning on settling in America for good, they don't have as much influence over the final decision as Frédéric. L'Heure d'Été (aka Summer Hours) was produced in part by the celebrated French art gallery Musée d'Orsay, and was one of a handful of films created to honor the museum in its 20th anniversary year.
News & Interviews for L'Heure d'été (Summer Hours)
Critic Reviews for L'Heure d'été (Summer Hours)
Audience Reviews for L'Heure d'été (Summer Hours)
½
"Summer Hours" is a movie about life just like life is. Such as we see in "L´eau froide", Olivier Assayas offer us great and naturalistic interpretations/characters placed in simple stories without almost any action. As realistic as it is possible.
Rubia Carolina
Super Reviewer
"Summer Hours" from Olivier Assayas is a completely absorbing and poignant character piece; one of the finest and most authentic films about the family dynamic and the unexpected twists and turns our lives take I've ever seen. Assayas crafts an extremely intimate film here. Whereas a lesser filmmaker would have audiences feeling as if they were intruding on matters so personal, he invites us into his narrative and makes us a part of his characters lives. It's lush, warm, and soothing visuals and tone ensure that we've enjoyed our stay. A remarkable and heartwarming triumph.
A kindly matriarch leaves her palatial country estate to her three grown children who, after her death, debate whether or not to sell and what is lost if they do. The concept for the film is strong, and by and large, the performances are subtle, nuanced, and strong. However, the film is simply too slow. At about the beginning of the second act, we've already figured out the film's theme and have a very good idea about how it's going to end, and for the last hour, we're waiting for the film to catch up to its audience.
Jim Hunter
Super Reviewer
L'Heure d'été (Summer Hours) Quotes
There are no approved quotes yet for this movie.