Summer of Sam
(1999)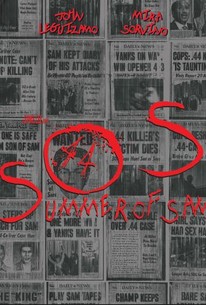 Movie Info
New York City's infamous summer of 1977 was a scene of disco divas and the culture clash between fashionable patrons of Studio 54 and the new wave of punk rockers who invaded Manhattan. It was also one of the hottest summers on record and produced the city's first serial killer, whom the tabloids, in a frenzy to boost their circulations, quickly dubbed "Son of Sam." With the media playing an integral role in creating mass fear and paranoia, the whole city became a hotbed of trepidation and panic, captivating not only New York, but the entire world. In director/writer Spike Lee's drama "Summer of Sam," the vicious murderer stalks his way through the Italian-American section of the Bronx, preying on innocent young women. As the temperatures and body count rise, the city becomes immersed in terror. In the desperate search for the 44-caliber killer, a Mafia boss offers a bounty for the Son of Sam. Motivated by greed and ignorance, Joey T., a 32-year-old thug, and his gang of flunkies become obsessed with the idea that Son of Sam is someone from "the neighborhood." Armed with twisted logic, the gang makes a list of everyone they think is a freak-o. The witch-hunt is on, with Ritchie, an aspiring punk rocker, becoming the focus of their suspicion and an easy scapegoat for their fears.
Critic Reviews for Summer of Sam
Audience Reviews for Summer of Sam
A thrilling, often bizarre film, Summer of Sam is a bigger triumph than its general critical reception would make it seem due to a great ensemble and a strong screenplay.
Matthew Samuel Mirliani
Super Reviewer
I am usually one to dislike Spike Lee's work due to his knack for starting fights and complaining about more talented directors. Even I can admit however that Lee can at times make a good effort. Although Summer of Sam is not a great piece of cinema, this is much better film than most in Spike Lee's filmography. The cast really elevate the material, and for what it is, this is an engaging thriller from start to finish that will certainly appeal to viewers looking for a well acted movie with effective thrills. The film could have been better as well, and though Lee tries to craft something quite different from his other work, he at times feels uncertain on how to really make this a standout feature. Spike Lee has made a good film here, and though I hate the guy, I quite enjoyed this dramatic thriller. If only he would change his outlook and shut his mouth, he would be more respected. With this film, he crafts something compelling and worth seeing. This is quite different and even if it's not perfect, it's one of his better films. The film is mixed in terms of what it tries to be, but it's always engaging due to its varied cast and well thought out characters. I will be honest, I wanted to avoid this film, and I thought it wouldn't be good due to the fact that Lee's films tend to be preachy and packed with racial tension, but Summer of Sam is different and refreshing. The cast and plot are compelling and elevate Spike Lee sometimes lacking direction. I did enjoy the film, and along with Malcolm X is Spike Lee's second best directorial effort. Even Lee's haters, like me can admit that this is an entertaining film and it works due to well written characters and standout performances. You can only imagine how much better the film would have been better if someone else would have helmed the project. This is a flawed film, but better than what I initial thought.
½
Know what? I bet that Spike Lee would make a really brilliant zombie movie. He really excels at crafting stories about groups of characters caught in circumstances that bring out the worst in everyone. This movie reminds me a lot of Do The Right Thing, but it's made twelve years after and set ten years before. I was surprised (though perhaps I shouldn't have been) that this movie spent so little time with David Berkowitz himself and so much more with all the characters made paranoid and hostile to each other in the wake of his insane and random murders. The Son of Sam murders have fostered an atmosphere of suspicion that leads former friends and people who've grown up together to mistrust each other, form vicious little in-groups and turn on other people to make themselves feel more secure. Not unlike in The Walking Dead. These characters seem really three-dimensional and real to me, and everyone's motivations, while sometimes despicable, are at the very least understandable. I really like the way Ruby and Ritchie get into the burgeoning CBGB's punk scene and come together, and I really liked Vinny and Dionna as the profoundly unhappily married couple trying to repair their strained relationship. Are they even compatible? I love this movie. It's so human and so big, and Spike Lee tells the story with a real sense of flair and zeitgeist.
Emily Armstrong
Super Reviewer
Summer of Sam Quotes
There are no approved quotes yet for this movie.